FlexiSpot's latest sit-standing desk combines the best of the brand's innovations with a more cutting-edge design.
The Comhar All-in-One Standing Desk (Comhar) is an advanced, space-efficient height adjustable desk with a modern tempered glass desktop finished with rounded edges for superior safety, comfort, and elegance.
The desk's overall design makes it a gem for more than 43 percent of Americans who now work from home full-time.
The Comhar will deliver both aesthetics and functionality in any home office. Here are more features that make the desk a cut above the rest:
1. Minimal footprint with built-in desk storage
In addition to a spacious 48" x 24" desk that takes up minimal floor space, the Comhar has a convenient pull-out desk drawer that gives home-based workers plenty of room to organize and store all their desk essentials.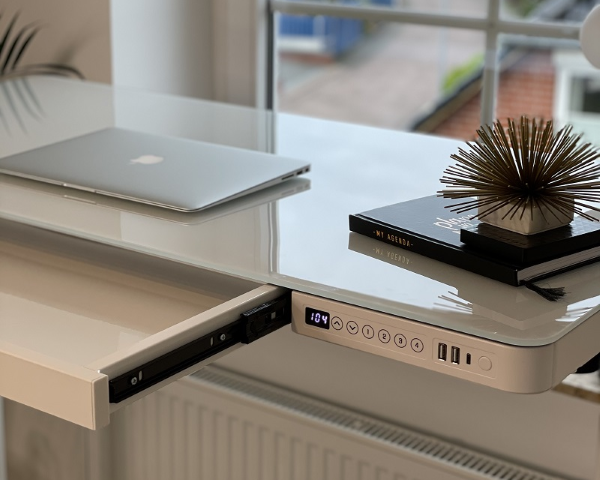 2. Embedded Charging Ports
With three built-in USB charging ports (2 TYPE-A and 1 TYPE-C), the Comhar makes it easy to keep multiple devices powered all day while also eliminating the need for clunky desktop charging stations that take up valuable space.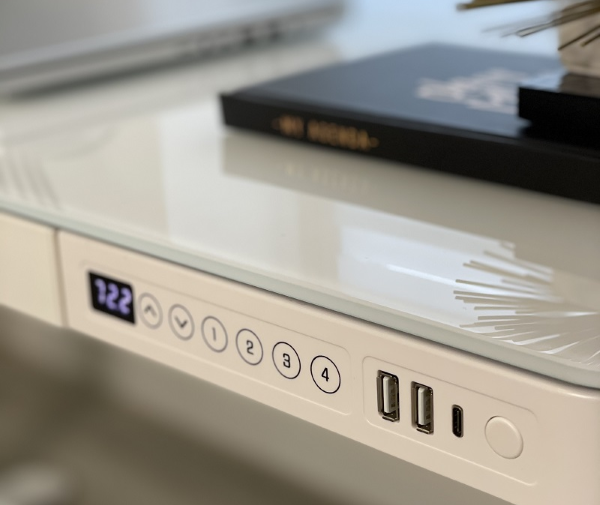 3. Electric Height Adjustment
The desk raises and lowers with the simple press of a button so users can comfortably shift from sitting to standing and still getting work done. The desk is also customizable with four programmable height presets so multiple users in a family can save their preferred height setting. The Comhar has a height adjustment range of 28.3 inches to 47.6 inches. The height range adjustment is varied that even your child can use it, too.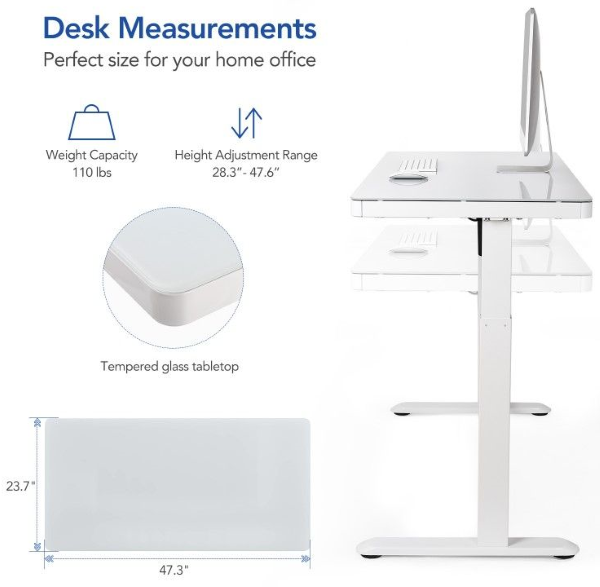 4. Child Safety Functions
The integrated control panel offers a child lock button to prevent curious little fingers from playing with the control buttons. It also has anti-collision technology that prevents the desk from damaging or crushing other objects when in motion.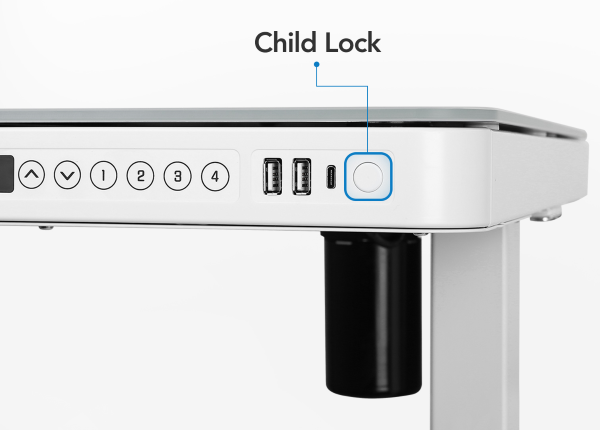 5. Hassle-free Installation
With a factory-installed crossbeam to give work-from-home professionals a headstart on assembly, it's easy to get this workstation up and running in less than five minutes.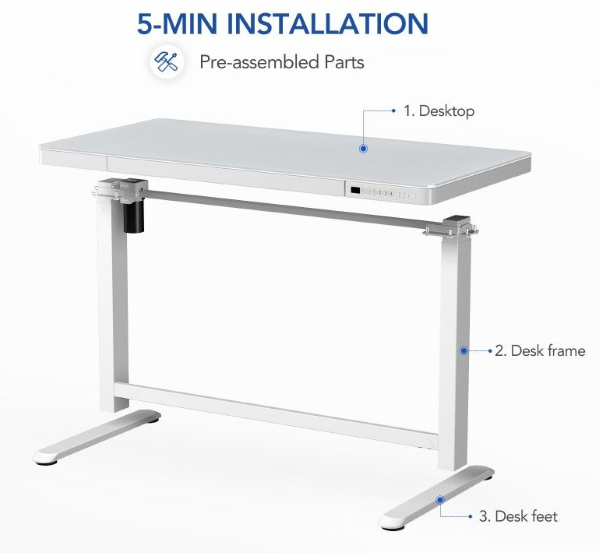 6. Sturdy Structure
Complementing Comhar's design is FlexiSpot's signature standing desk structure: The desk frame has a scratch-resistant powder-coated steel tubing that ensures stability even at the highest height setting.
7. Smooth Adjustments
Keen on providing excellent products, FlexiSpot stays true to its promise of problem-free height adjustment for their desks. FlexiSpot's actuator is from Locktec Motion, which is responsible for the company's research and design initiatives. The same technology is used in the Comhar so you don't have to worry about its capacity to meet your needs.
Likewise, the Comhar remains steady even if you put an extensive equipment setup on its desktop. With its sturdy frame, you can trust the Comhar to remain stable at any adjustment point even with a 110-pound load.
Choose from different designs
The Comhar comes in different stylish finishes: chipboard black, white, and maple and in white and black tempered glass. It can be purchased at FlexiSpot.com.
About FlexiSpot
FlexiSpot manufactures high-quality ergonomic furniture. Included in its product roster are desk converters, bike desks, office chairs, and anti-fatigue mats, to name a few.
FlexiSpot designs, manufactures, and sells ergonomic products and accessories that can be customized to fit the configuration of any home office or facility. The company has worked with numerous businesses— from small startups with a handful of employees to Fortune 100 companies with thousands of workers — to make workstations healthier.