RFID, which stands for Radio-Frequency Identification, has become an extremely useful technology for both industries and their consumers. Basically, the technology behind RFID embeds important digital information in objects like passports, smart tags, and security badges, and that digitally stored information is mainly used for contactless payments, for inventory tracking purposes, or even to get your car started-up and running by simply using a key fob. Nevertheless, it is also important to highlight that not all uses of RFID technology are benevolent, as hackers can sometimes try to get access and then steal that same digitally stored data that the RFID technology was designed to capture, which would then allow them to ultimately exploit that personal digital data in order to commit crimes like financial fraud or medical fraud, or in the worst-case scenario, a complete identity theft. With all of that said, using an RFID Blocking Card like the Secured Sphere RFID Shield Card could help you to keep your personal digitally stored data within any daily essential items perfectly secure, and that could include items like a passport, a credit card, etc.
The Secured Sphere RFID Shield Card is a powerful data-privacy-focused RFID Blocking Card that can be used to protect your wallet's credit cards and their digitally stored personal data.
This RFID Blocking Card is perfect for any consumers who are looking to take more control over their personal financial security.
Now, without further ado, let's have a look at this awesome RFID Blocking Card and check everything that it has to offer you.
DESIGN & SPECS
Starting with the card's size, the Secured Sphere RFID Shield Card comes in the exactly same measurements as any traditional credit card would. Furthermore, the card itself is extremely lightweight.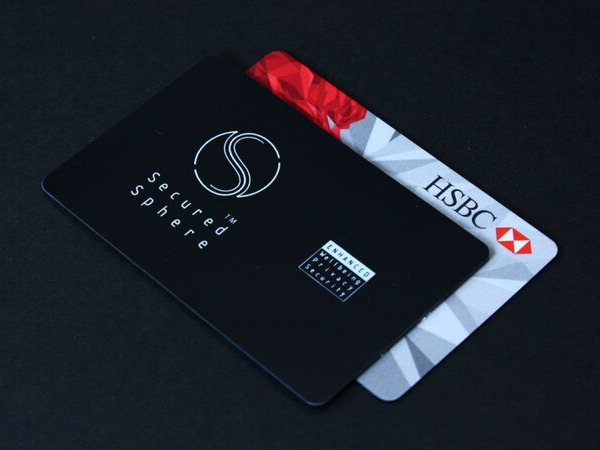 Additionally, the card is also crafted with really high-quality materials, which basically make it extra sturdy for some added durability, and that should ultimately help to increase its lifespan.
Now, regarding the card's design, this RFID Blocking Card comes in a very discrete, yet gorgeous black and white color pattern, with the black color being used for its entire background and the white color for its text and logo.
HOW DOES IT WORK?
Now we'll have a look at how exactly the Secured Sphere RFID Shield Card works. Basically, this RFID Blocking Card is designed to provide consumers with some advanced protection for their wallet's contents (meaning their credit cards).
The Company Behind this RFID Blocking Card
It's important to note that this RFID Blocking Card was, in fact, designed by a company that specialises in data security products and other data-privacy solutions.
That company would be none other than Secured Sphere, who's actually made its main goal to promote data privacy, security, and the protection of worldwide consumers' health from the different radiations that we are exposed to on a daily basis, including radiations such as RF (Radio-Frequency), EMF (Electric and Magnetic Fields), and the growing use of 5G.
In fact, the company is working extremely hard at promoting its current (and upcoming) RFID blocking products in order to make our "now digitally-based world" a better and more secure place for all of us.
The Technology that Powers the Card
Back to the Secured Sphere RFID Shield Card. The card works in a very simple, yet flawless manner. Basically, the RFID Shield Card is designed to block any wireless signals of high-frequency smart card scanners / remote skimmers that operate in the on frequency of 13.56Mhz and aim to target items that integrated a RFID chip (like contactless credit cards, bank cards, as well as other payments cards, smart cards, or even access cards).
Unlike most (if not all) other RFID Blocking Cards that you can find currently available in the market, the new technology that's used in the Secured Sphere RFID Shield Card is guaranteed to offer consumers up to an 3.14 inches (8 cm) radius of protection within your wallet or purse. So, no matter if your wallet or purse are thick (or long), this RFID Blocking Card is guaranteed to offer you a professional protection level of data-privacy from any unauthorized or illegal RFID scanning methods that would potentially help hackers to steal money and/or information from any of your wallet's smart cards.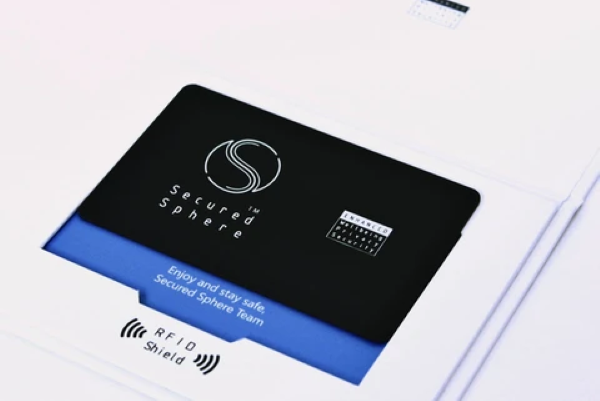 The card can easily achieve this block radius by using 3 main components, which are a Next Gen RFID Blocking Chip, a RFID Blocking Signal Amplifier (which obviously helps to extend its blocking-RFID capabilities), and a Power Receiving Antenna (which ensures that the card requires no power source whatsoever).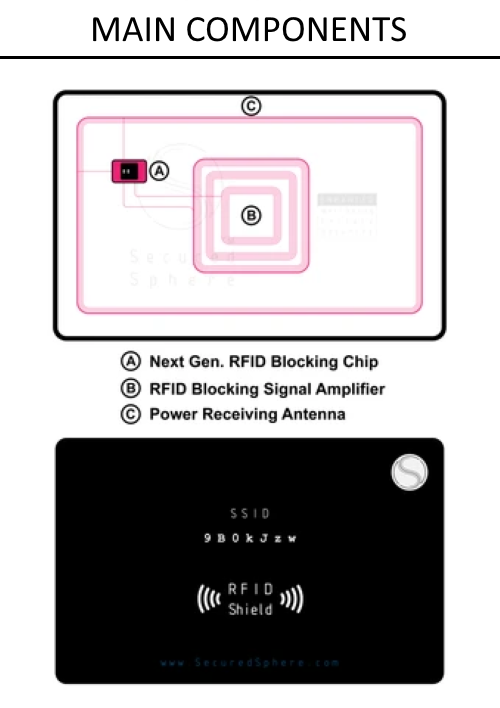 For the latter component, this means that this RFID Blocking Card requires no battery in order for it to work. To put it simply, once the card is exposed to a card scanner, it utilizes its Power Receiving Antenna to draw power from any nearby scanner (or skimmer) and immediately powers up to instantly create a jamming field, and this surround electronic field can make all 13.56Mhz cards invisible to any nearby scanner/skimmer.
At the same time, whenever a scanner (or skimmer) goes outside the range of the Secured Sphere RFID Shield Card's Power Receiving Antenna, the card itself will de-power and stop working, thus becoming innactive.
Embedded below, you can find the company's official short-demonstration video of its RFID Blocking Card working a real-life scenario:
So, as you can see, using this RFID Blocking Card to keep your personal private digital data completely protected is quite simple, as all you have to do is to simply place it inside your wallet and as soon as that's done, the Secured Sphere RFID Shield Card will work as your personal go-to RFID Blocking Shield.
Thanks to all of that, you won't really have to swap your current wallet for one that would come with an integrated RFID Blocking Shield just to keep your cards' digitally-stored data secure.
FINAL THOUGHTS
The Secured Sphere RFID Shield Card is a powerful data-privacy-focused RFID Blocking Card that can be used to protect your wallet's credit cards and their digitally stored personal data.
This is the perfect RFID Blocking Card for any consumers that are looking to take more control over their personal financial security, as it provides users with a holistic protection from skimming theft by simply disabling the RFID functionality of all cards within a 3.14 inches (8 cm) radius.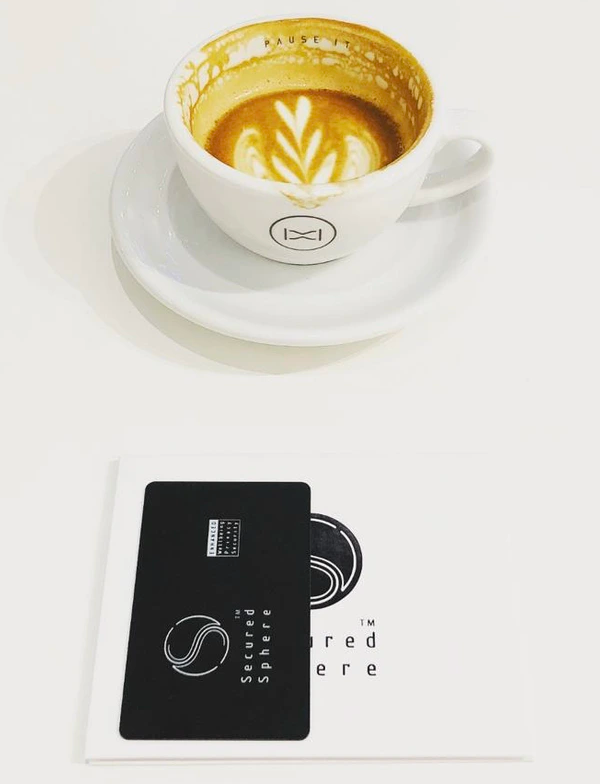 Thanks to that, the card to be conveniently placed inside your wallet and provide an expansive coverage for all of your RFID-enabled cards within its radius.
Ultimately, the Secured Sphere RFID Blocking Card will actively block any RFID scanners that are used for stealing personal information, which basically helps consumers to feel more secure when going about their daily routine.
If you're interested in buying it, each card is currently discounted from its normal price of $20.64, now going for just $16.13. This limited-time sale will end on January 31st.
After that, starting from February 1st until March 31, 2021, buyers can use the code "GADGETGRAM" to receive a 20% discount off the total price of $20.64, making it just $16.30 for each RFID Shielding Card package that they order on the company's official website.
Each purchase is also accompanied by a 3-Year Warranty, and each package only requires a very low shipping cost of just $2.6 (this goes for any size package, and for any state within the US, so order as many as you want, and get them sent to whatever state you want).
You can order yours online right now, directly from Secured Sphere's official shopping page, which you can access by clicking this link.