The best PDF editor should be able to edit PDF files in the simplest and easiest way possible. The Best online PDF editor can be either free or those you subscribe for. The free one should be able to make a good edition with ease without the need for a subscription. The one that is paid for should offer the user good services that are worth their money. The PDF editor by CocoDoc allows users to enjoy both free and subscribed mode.
The CocoDoc free PDF editor allows the user to edit images and texts in PDF files. They allow you to do that without converting them into a different format. The editor allows you to do the editing without the need to download more software.
PDF files are the most convenient way to share information. They play a great role in both the corporate and business world and general use as well. The information contained in a PDF is not altered by the type of program or device used to access it and that's is what makes it the most ideal way to store data.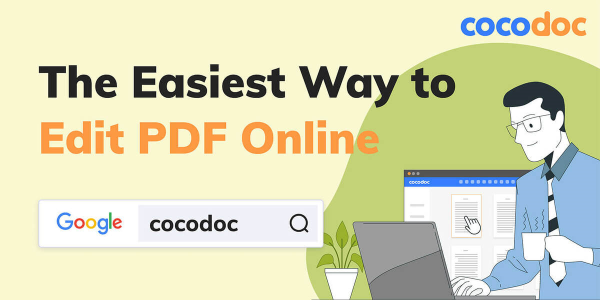 PDF is commonly used for file types such as texts and documents. If you want to edit a PDF file in Windows 10, you need to get a third-party program since it doesn't come with software to facilitate the editing of PDF files.
Since other text file formats such as open office and Microsoft word can display the document differently depending on the computer being used. It's therefore advisable to send important documents such as resumes in PDF format because they cannot change their display even when opened on a different computer.
However, when one needs to edit the document it becomes a tasking affair. That should not worry anybody anymore because, with CocoDoc Editor, editing PDFs has been simplified. With little or no knowledge, you can add and remove texts, add annotation among other activities on your PDF documents.
Any type of information that would attract criticism or misinterpretation is stored in form of a PDF. In the past, there were limited ways in which you would edit a PDF but as technology has evolved new ways and editors have been created to help solve the matter.
There are very few PDF Editors and out of those, very few are efficient. That is why the user should be very keen when choosing an editor for their PDFs. The PDF editor by CocoDoc is one of the most effective and efficient tools to edit your PDF document.
For a very long time, people have embraced Adobe Crobat as the only effective PDF editor. This has been so due to the technology that has been applied in its creation. Fortunately, the CocoDoc PDF editor has been able to incorporate the technology in their software making.
Nobody is willing to break a bank in this time and age just to have their PDF document edited. That is why the best and the most efficient platform to edit your PDF online is CocoDoc. They have incorporated all the necessary features that a user would require during editing. Moreover, CocoDoc is free and the quality is still commendable.
What makes the CocoDoc Editor exemplary is the fact that it has all the fancy features that are found in the paid editors even when you are using the free mode. It is also easy to use and even users who are not tech surveys can use it without any problems. The Interface for this editor has been simplified in a way that accommodates all users regardless of their computer literacy.
CONCLUSION
There are various software's both paid and free that can be installed to assist in editing pdf documents. PDF is a file type which was developed by adobe and what makes pdf files unique from other text files format is that it looks the same on any program or system.
I would highly recommend CocoDoc Editor because other than editing text files pdf, they allow editing of forms, website links, and videos which makes it a unique and most commonly used file PDF editor. You can also add photos to the document without much trouble. It also offers an encryption option which means the security of the said document.