Anyone who enjoys taking photos and shooting videos to capture their memorable moments knows well enough that after a while, those files can quickly reach their devices' storage capacity limit. Nevertheless, by simply using a microSD card you can easily solve your storage capacity issues. Now, while standard microSD cards feature a reasonable amount of storage capacity, their larger counterparts, which are called microSDXC cards (meaning microSD eXtended Capacity cards) actually feature the largest storage space of all the 3 types of microSD memory cards. With that said, if you're looking for a microSDXC card for any of your devices, consider going with the PNY 1TB PRO Elite Class 10 U3 V30 microSDXC Card and SD Adapter.
The PNY 1TB PRO Elite Class is a high-end microSDXC Card that features ultra-fast read speeds of up to 100MB/s and write speeds of up to 90MB/s.
Its peak performance ultimately makes it perfect for fast and smooth HD Photography and 4K Ultra HD Videography. Not only that, but this powerful microSDXC Card also features support to A2 App Performance, which allows you to run almost any App directly from the microSD card, which is able to offer you a faster launch for each of those Apps as well as a flawless performance.
Lastly, thanks to its included SD adapter, you can have make this microSDXC Card compatible with pretty much any SD enabled host devices that you can think of, whether that's a DSLR camera or a video camera, a desktops, or a laptop.
So, without any further ado, let's have a detailed look at this microSDXC Card and check out its design and construction as well as all of its tech. specs.
DESIGN
Starting with the microSDXC Card's design, the PNY 1TB PRO Elite Class microSDXC Card features a very solid construction that makes the whole unit both ultra-durable as well as reliable for pretty much any environment, no matter if you're shooting photo or video with your Smartphone, or if you're recording something outdoors with a more professional camera setup.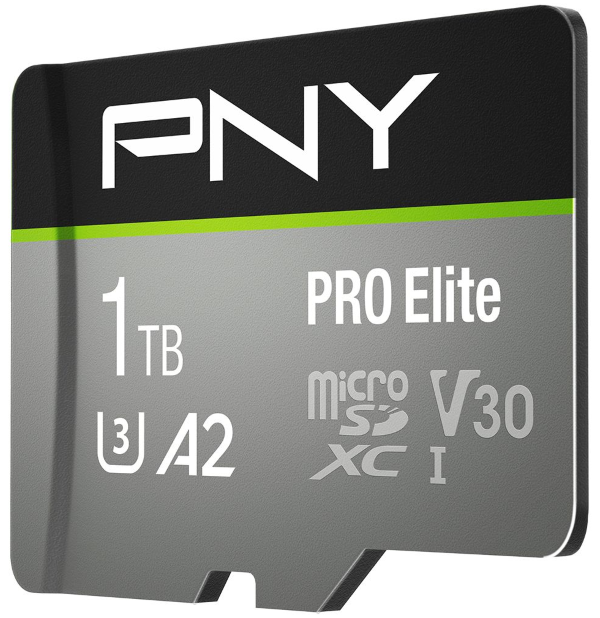 Additionally, its ultra-tough construction also makes this microSDXC Card Magnet-Proof, Shock-Proof, Temperature-Proof, and even Waterproof.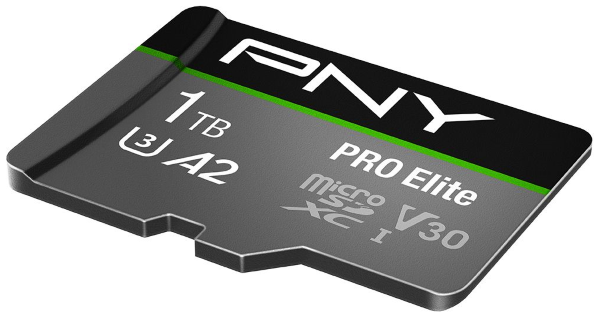 TECH SPECS / SPEED & PERFORMANCE
Starting with its storage capacity, this microSDXC Card features exactly 1TB (or 1000 gigabytes) of storage capacity.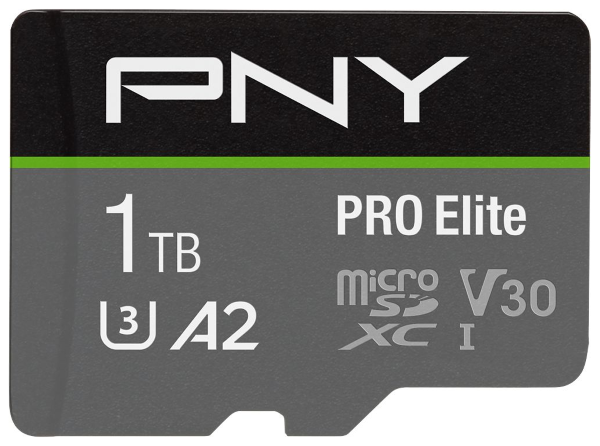 Moreover, and as said before, the PNY 1TB PRO Elite Class 10 U3 V30 microSDXC Card can offer a peak performance for Smartphones, Tablets, drones, DSLR cameras and action cameras, surveillance cameras, gaming consoles, and more.
This microSDXC Card features a maximum read speed of up to 100MB/s and a maximum write speed of up to 90MB/s, and thanks to that, users can quickly capture and share their high resolution content in absolutely no time.
COMPATIBILITY
Now, regarding the PNY 1TB PRO Elite Class microSDXC Card's compatibility, you can use it to record and transfer videos, photos, music, files and more from pretty much any microSD enabled host devices, and that includes both Android Smartphones and Tablets, as well as DSLR, action and surveillance cameras or drones, and even any computer that features a microSD card reading slot.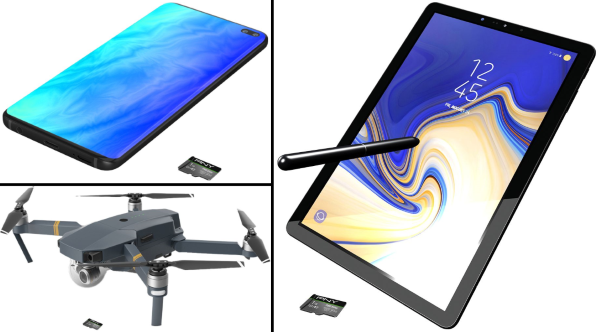 Additionally, the PNY 1TB PRO Elite Class microSDXC Card also comes together with an included SD adapter that makes it fully compatibility with most SD enabled host devices, such as DSLR cameras, video cameras, desktops, and laptops.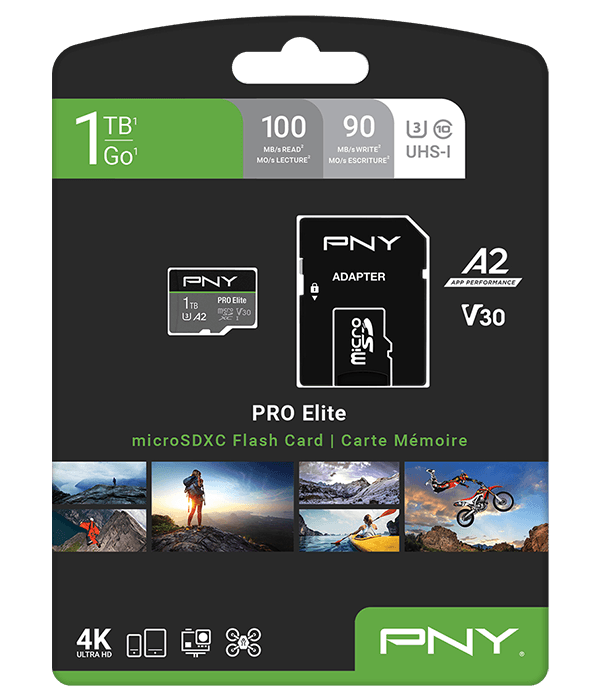 OTHER NOTABLE FEATURES
U3 Tech & V30 Video Speed Rating
Since this microSDXC Card is rated as a U3 card (meaning that it's rated at a minimum of 30 MB/s), its U3 technology makes it the perfect solution for capturing stunning 4K Ultra HD videography and HD photography.
Furthermore, this microSDXC Card also features a V30 Video Speed Class rating, which makes it ideal for 4K Ultra HD video at 4096×3072 format, which basically means that you can use it with any high-end camera or high-end drone that features 4K recording capabilities to perfectly capture high-quality 4K content.
Support to A2 App Performance
Additionally, this microSDXC Card is also rated A2, meaning that it also features support to A2 App Performance, which in other words, optimizes the microSDXC Card for App performance, thus allowing users to run apps directly from this microSDXC Card, which brings you both a faster App launch as well as better App performance than ever before.
The card's support to A2 App Performance provides minimally 4000 IOPS (Read-Speed) and 2000 IOPS (Write-Speed).
FINAL THOUGHTS
The PNY 1TB PRO Elite Class is a high-end microSDXC Card that features ultra-fast read speeds of up to 100MB/s and write speeds of up to 90MB/s.
With it, you can record any of your best moments in 4K quality by using it with a Smartphone or Tablet, almost any type of camera or drone, and you can also use it with a laptop or computer to upload your content to once you're done recording.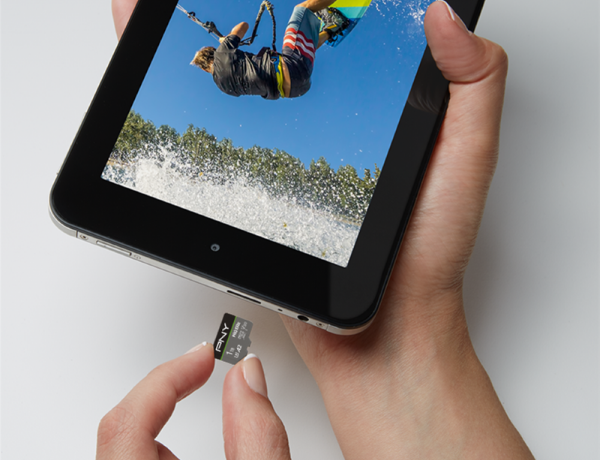 Overall, it's a great microSDXC Card for you to go with, especially since it comes from a well-known and trustworthy brand.
If you're interested in buying it, each package (microSDXC Card + dedicated Adapter) is currently going for $229, and each purchase also comes accompanied by a 15-Day Free Return as well as with a Limited Lifetime Manufacturer's Warranty (for Parts and Labor).
You can order yours online right now, directly from PNY Technologies' official website, which you can access by clicking here. Alternatively, you can also pick it up from Best Buy's online shopping page.