A contractor invoice is a document that a contractor creates to receive payment for services or materials provided to a person or company. It is a formal and professional method of seeking payment for services rendered to a customer.
This contractor invoice was created to project the amount of work completed, hours worked, milestones achieved, payment conditions, payment due date, and discount (if applicable).
A contractor invoice is not to be confused with a quote. A quotation is an estimation of how much a job could cost, while an invoice is an amount owed for a job that has already been completed.
A gentlemanly handshake may also be used to conclude contract agreements, but a verbal invoice is not recommended. It is important to file an invoice in black and white to prevent problems with customers, payment delays, and the security of the contractor's right to payment.
Why Do You Need a Contractor Invoice and When Do You Need It?
Relationships between contractors and clients are fragile and should be handled as such. Both parties must maintain records to avoid any misunderstandings, shady deals, cutting corners, or falsified statements. A contractor invoice is a very well-known document that allows you to do just that. You can learn more here about contractor invoice documents.
Why do you want a Contractor Invoice?
To avoid disagreements
It serves as a reminder to the customer to make a payment.
Facilitates in the maintenance of records
Any concerns that could have been confused during oral communication should be ironed out.
Assists with fast payments
A contractor should submit an invoice as soon as the job is finished. Since drafting one takes time, delaying it can cause both the contractor and the client to lose track of how much work has been completed and what is owed.
A week's delay in billing does not always imply a week's delay in payment. It may take even longer. The only sure-fire way to get paid on time is to prepare an invoice ahead of time.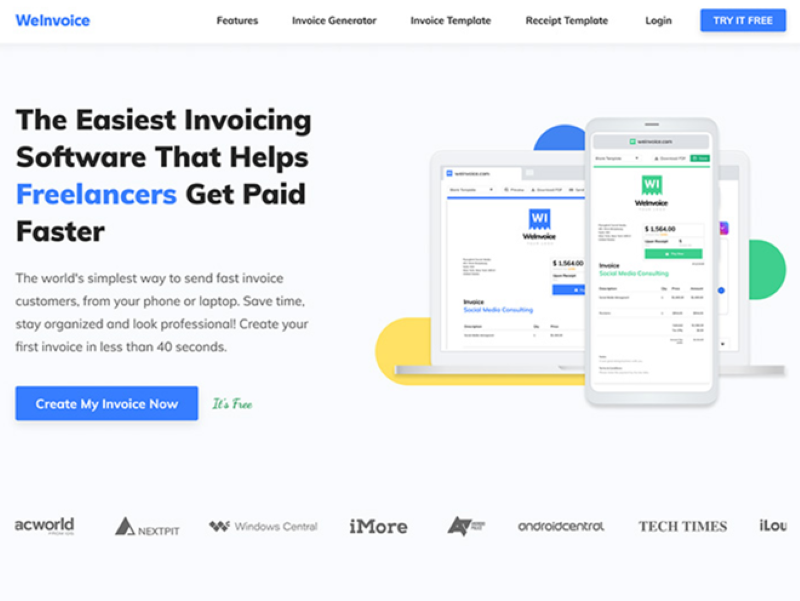 Working with a template makes creating a contractor invoice much easier. You will work with a large number of free customizable invoice templates on WeInvoice. If you prefer a physical invoice, you can create one yourself using WeInvoice's invoice generator or any of its printable invoice models.
What Does a Contractor Invoice Contain?
The entries on a contractor invoice are usually determined by the type of job the contractor is to complete.
A construction contractor, for example, may have fields for material materials, manual labor, and machinery hires, while a freelancer might have entries for hourly writing fees or a single entry for his or her flat rate price.
In any case, such details must be provided in any contractor invoice, regardless of who uses it. They are as follows:
Number of the invoice
Information about the business
Details about the licenses that are currently in use (if any)
Information about the client
Date of invoice
Description of the goods and services Sum payable
Payment terms and delivery details
As a Contractor, How do you Invoice?
It's a well-known fact that invoices are critical resources for monitoring transactions and, as a result, must provide specific billing details. This guide is for you if you do need assistance in how to invoice as a contractor. As a contractor, here's how to invoice:
Making a Proper Heading for your Invoice
You must remove all shades of uncertainty to prevent some kind of confrontation. One way to do this is to explicitly state that the document is an invoice in big, bold font. The word "Invoice" should be written across the top of the paper.
Fill in your Company's Stats
Your company's logo, name, place address, email address, and phone number should all be included in the invoice header.
Fill in the Client's Contact Details
Insert your client's contact details just below your business information. This is the billing contact details for the customer. This billing touch may or may not be the same as the company or client's office address.
Assign a Bill Number
Each invoice document you create should have its invoice amount. This will help with record-keeping and resolving problems that can occur after delivery.
Have the Date of the Invoice
At the top of the paper, write the date the invoice was given.
Describe the Services You Delivered In Detail
Itemize the services given in a four-column table. The "Description" should be in the first column "tag, which includes a detailed description of the goods or services provided. The second column shows how many items were shipped or how many hours were worked. The third column is the unit cost, and the fourth column is the subtotal for each invoice object.
Fill in the Payment Terms
Including the payment terms, as well as the agreed-upon payment process.
Include the Sum That's Owed to You
To calculate the total, add the subtotals of each item/service on the invoice. This number does not match the amount owed. If applicable, the payment due should represent the VAT paid on the goods as well as any discounts granted on the total order.
ENDNOTE
If you run a company that likes to do things differently, you'll appreciate their templates. We may conclude that it is an intriguing forum for creating invoices. They have special templates for freelancers to make it easier for them to get paid.
The fact that PayPal has a payment gateway makes it the easiest application to use. As a result, you won't need any other financial management software in addition to WeInvoice. The best thing is that it is completely free to use and does not impose any cost for using the services (in its trial pack).