Launched in October 2020, Mario Kart Live: Home Circuit has just celebrated its first birthday. With its first major update comes new accessibility features that offer greater convenience and save on cost, making the system even more viable to the average user. Given the limitations of the first release, this move could be the shot in the arm that Mario Kart Live needs. It might even make it the latest killer AR app. As an industry, this technology is primed like never before, so where could it go next?
What is Mario Kart Live?
Mario Kart Live: Home Circuit is an augmented reality game, or mixed reality game. Semi-officially the 15th entry in the Mario Kart series, this game brings the classic racing title into the real world with the use of cameras and Nintendo Switch functionality. Selling 1.27 million copies, the game is not without its issues. However, as an experiment and an experience, the public has responded positively.
The idea of Mario Kart live is an odd one, but as Nintendo has repeatedly shown, they're not afraid of swinging for the fences with unusual tech. Shipped with the game box are a digital download key, one remote-controlled Mario or Luigi car, and four cardboard gates. Players then take it upon themselves to layout a physical course in their home, using the included cardboard gates as checkpoints.
As the players start their race, the view from the cameras attached to the kart is outputted to the Switch, which is then overlaid with AR models. This means extra graphics, competitors, and even items that don't exist in the physical space. When hit with an item, the control of a player's kart is changed in real-time, giving the effect of classic weapon hits without damage to the real karts.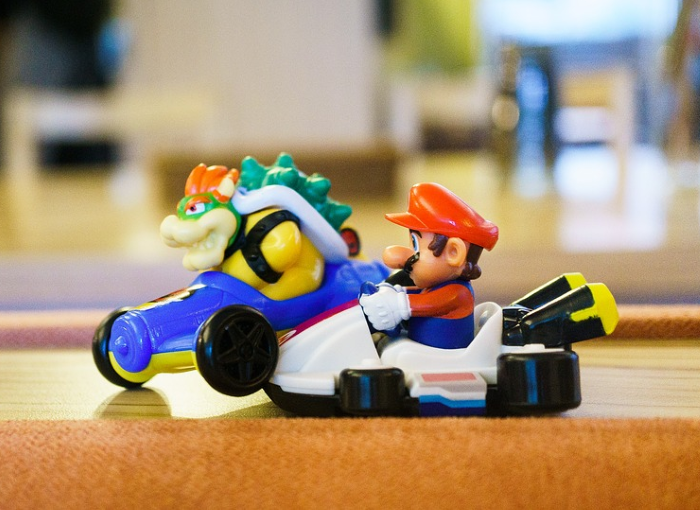 In the 1.x versions of the game, each player needed their own Switch, but with the 2.0 update, this has changed. Each player still needs their own kart, since these karts are equipped with cameras, but now the display for these cameras can be outputted simultaneously over a Switch and a connected screen. This means a second player doesn't need a second copy of the game, and can even play with their personal controllers if they want.
With up to four players competing at once, Mario Kart Live might not have all the functionality of the insane regular titles, but in terms of real-time AR gaming, it's probably the best integration the industry has seen yet. Mario is not a niche title, and Nintendo is not a small company, so success here could lay the groundwork for many other major developers.
How did we Get Here?
As popular as Mario Kart Live has proven, it's far from the first AR or live streaming type of experience to reach mainstream popularity. Looking back at the developments since the arrival of the new millennium, the trajectory of both live streaming and the AR systems that leverage its tech has been on a constant upward trend.
The most obvious of these come from the basic concept of video streaming in systems like China's DouYu. With 170 million active users on this service alone, the simple concept isn't especially interactive, but it has proved the viability of video streaming technology to millions of otherwise technophobic people.
Extending this idea one step further has been the creation of live casino entertainment. Existing alongside and developing classic casino titles like blackjack, slots, and poker, live gaming uses streaming to add an extra degree of reality to the gameplay. In a way, this could also be seen as the same sort of interactive experience as Twitch D&D streaming, where people in different locations leverage technology to create a type of play they may otherwise miss.
With these technologies established, it was inevitable that AR would evolve the concept into new areas. Such ideas have been seen in the integration of AR systems with property tours. This gives potential buyers the chance to weigh changes long before implementations. These types of systems might not be especially entertaining, but they are incredibly useful. The same can be said in AR medical systems, which have proven valuable tools in training and diagnosing.
Combined, all of these systems, and many more, have helped foster a new level of acceptance to what could otherwise be alienating technology. Over time, AR and streaming tech have gone from cutting edge to another accepted part of our lives, with the only question being where these systems could go next.
In entertainment, titles like Mario Kart Live have shown the next generation of AR gaming offer opportunities that few could have predicted. With the lowering of prices of headsets, drones, and other related technology, getting involved is cheaper and easier than ever. As the barrier to entry drops lower each year, the financial reward for involved companies continues to grow. It's just a matter of who will develop the next must-have experience, and what effect that will have on the decades of AR and streaming experiences to come.