Are you looking for an ultimate gaming kit accessory for your Xbox Series X or Series S? Do you want a complete set-up that provides you with on-demand battery charging, audio control, a better and firmer handgrip for your controller(s), and even other needs to ultimately ensure you can get a higher satisfaction during your console-gaming experience? Then have a look at the Nyko Deluxe Master Pak for Xbox Series X|S.
The Nyko Deluxe Master Pak for Xbox Series X|S is the ultimate accessory kit for all Xbox fans, coming with a Dual-Charging Dock, 2 rechargeable battery packs with battery covers, an Over-Ear Headset, a Silicon Controller Grip Cover, and 8 Silicon Caps.
Basically, it comes with everything a gamer needs to play on their console like a pro!
In other words, this Xbox Accessory Kit caters to all the fundamental issues and gamer-needs that Xbox fans would normally come across, as it offers you all the convenient gaming features you'd want to have when gaming on your Xbox X / Xbox S.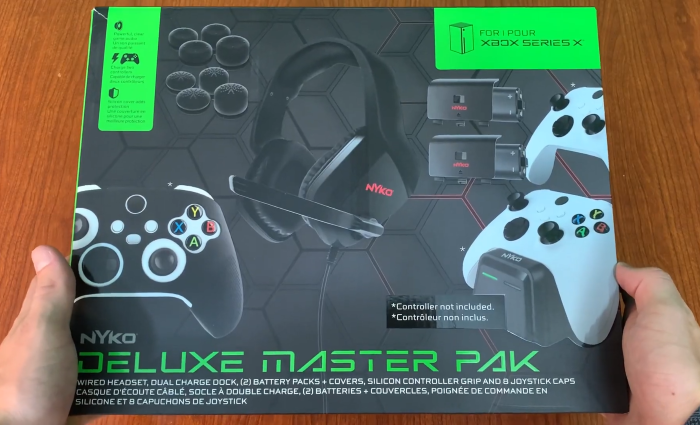 Now, let us look into all the detailed features that this "KING" of gaming accessories pack has to offer you and your Xbox Series X or S.
INCLUDED ACCESSORIES
Dual–Charging Dock – Simultaneously Charge Two Controllers
Instead of charging one controller at a time, the advanced technology of the dual charging ports included in the Charging Dock allows you to charge two Xbox Wireless Controllers.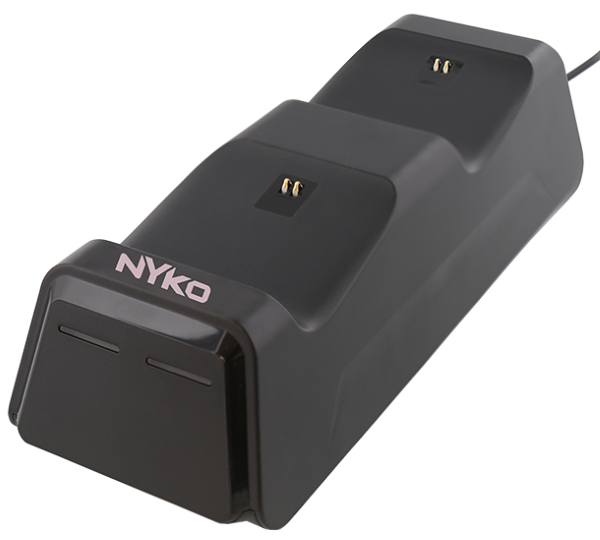 Through any USB port via cable, one can charge the controllers on the spot without any hassle. Yes, it is that simple!
Wired NX-2600 Over-Ear Headset
These state-of-the-art wired headsets not only allow you to hear the in-game audio but also let you voice chat with in-line audio control. Through the VoIP technology (Voice Over Internet Protocol), you can seamlessly carry on verbal communication with your team members in any given game.
The headset is fitted with lightweight speakers for extended gameplay without the excessive burden of a heavier audio station.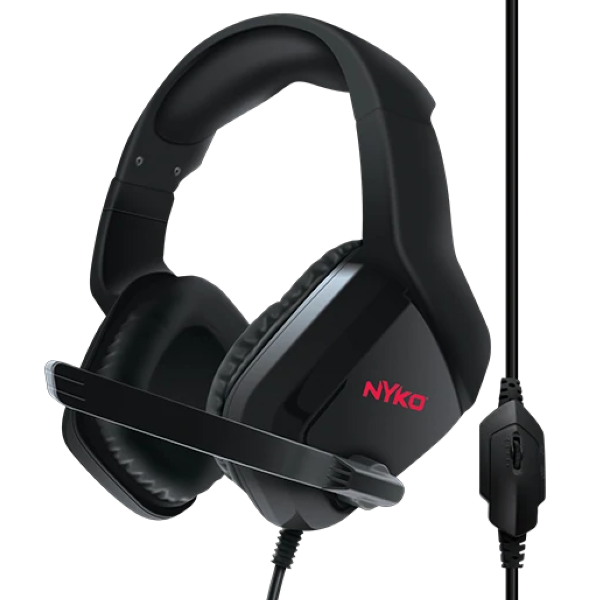 Furthermore, the audio jack is a standard 3.5mm universal pin so that it can be easily connected and plugged in with other devices. The microphone is adjustable so gamers can position the mic as per their desire.
2 Rechargeable Battery Packs
As said before, the kit also comes with two battery packs. These are purposely built-in battery covers that fit your Xbox controller and allow contact charging on its Charge Dock. This ultimately makes the charging process for your controller straightforward and much more efficient.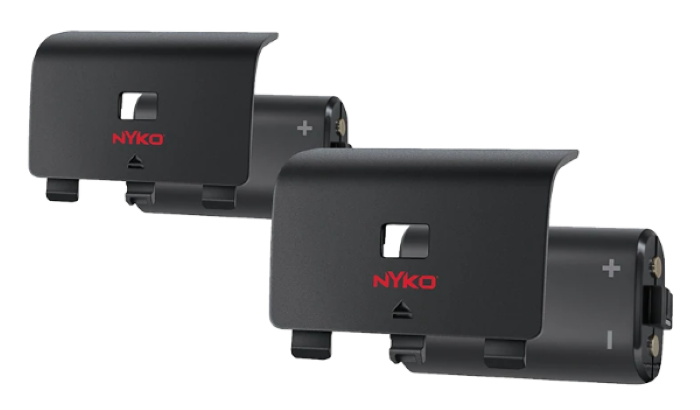 These 1200mAh rechargeable batteries come equipped with built-in battery doors that offer an easy connectivity, and each battery pack can deliver an impressive 25 hours of gameplay per full charge.
That ultimately means you're offered not one, but TWO long-lasting battery-charges for stress-free gameplay, which is perfect for long gaming sessions.
Customize Your Controllers (2 Silicone Grips & 8 Thumb-Stick Caps)
Nyko has always kept the consumers in mind when designing its products. So as per the company's tradition, the kit arsenal is boasted by two silicone grip skins for your controllers.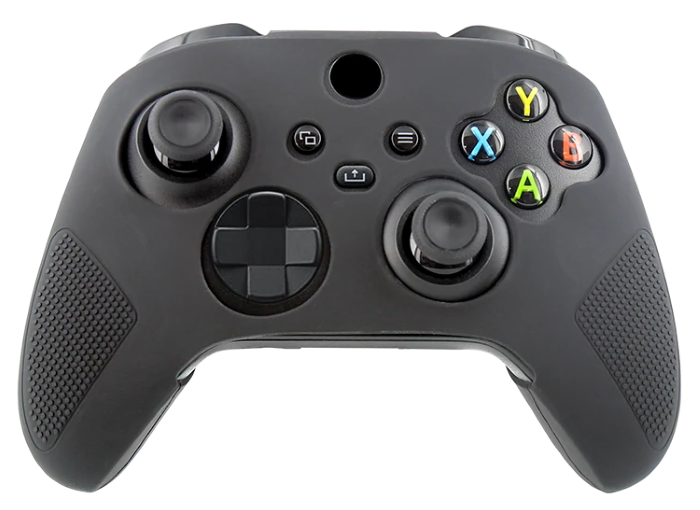 This gives the player a firm grip and a solid texture needed for an immersive gaming experience.
Additionally, eight thumb-stick caps are also provided for the next-level gameplays that separate the amateurs from the pros in gaming!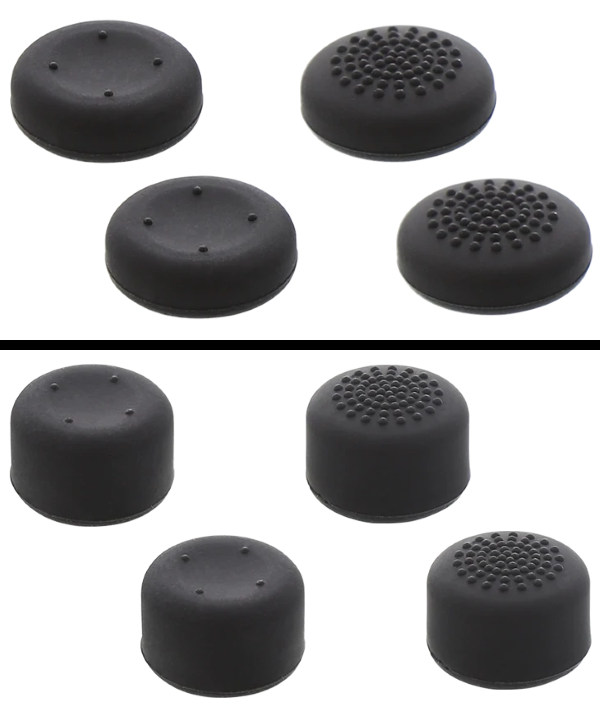 The four small and four large caps are used to adjust your fingers, decreasing hand cramps comfortably.
WHAT'S IN THE BOX?
Inside the package, users will find all of the kit's Xbox Accessories, which include: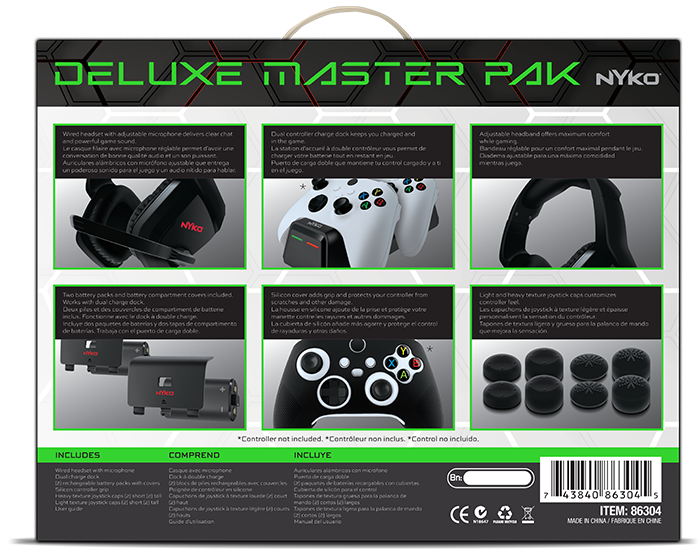 One charging dock.
Two rechargeable battery packs.
One over-ear headset.
Two silicon controller grip cover.
Eight silicon thumb caps.
A 3 ft. Charging Cable.
PRICING & AVAILABILITY
If you're interested in buying the kit, know that each set is currently priced at just $74.99.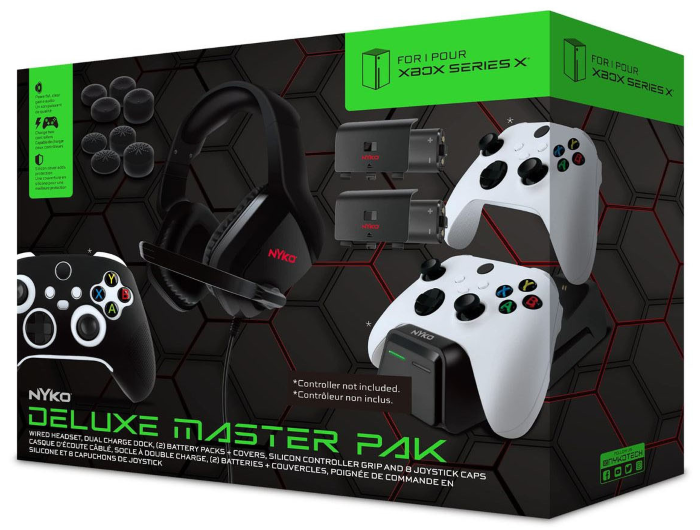 You can order it online right now, directly from Nyko's official shopping page
---
Limited Time Discount Available
Currently, the company also has a Limited Time Weekly Discount available for their Deluxe Master Pak for Xbox Series X|S, which lowers the kit's price-tag from its standard price of $74.99 to just $59.99 (saves you $15).
To take advantage of this Limited-Time Discount, simply click Nyko's official discount-shopping link.
---