It's undeniable that the gambling industry has seen an extensive growth in the last two decades thanks to the ever-rising popularity of casinos and casino games. Because of that, gambling has become one of the most common forms of entertainment in today's modern society. Nevertheless, while the world of online gambling and online casinos have both come a long way thanks to today's technology since their original start (which happened shortly after the internet was invented during the mid 90s), most online casino websites that are operating today still lack one very important thing. That's of course offering their players some level of immersion while they're engaged in gambling. Obviously, nothing compares to the real-life in-person experience of playing in a physical casino, especially since human beings are a social creature after all. However, that doesn't mean that the concept of immersion cannot be explored by online casino companies, because after all, nowadays there are technologies like Virtual Reality (VR) that can make anyone's online casino experience much more immersive. That's exactly what JM2 Clover Gaming aims to deliver with its newly-announced online casino platform called Cloverland, which is the first gambling site that uses a Metaverse in order to use NFTs for managing their whole system.
WHO IS JM2 Clover Gaming?
JM2 Clover Gaming is a 1-year old company based out of Santa Domingo, Dominican Republic, that has been developing an interactive gambling platform called Cloverland, which aims to bring the best elements of a typical land-based casino gambling experience to a dedicated Metaverse. Cloverland's unique Metaverse allows the platform to ultimately deliver a truly immersive gambling experience in the form of a 3D virtual environment where players can socialize with each other as if they are in a physical casino, consequently bringing all users an authentic casino experience.

Their gambling platform utilizes the most advanced 3D imagery on the market to provide their future players with a highly realistic experience, all while simultaneously allowing for an easy and secure gambling experience through the use of blockchain technology.
According to JM2 Clover Gaming's CEO Jean-Mathieu Marinetti "Cloverland will bring together all the advantages of the two worlds, physical and online casinos, to offer the most immersive and interactive experience for players and others who love the atmosphere of casinos.
HOW DOES THE CLOVERLAND GAMBLING PLATFORM WORK?
Essentially, Cloverland is designed to work as an interactive, immersive Metaverse-powered gaming platform with a fully interoperable technology that utilizes advanced, state-of-the-art XR (Extended Reality) technology to make its high-quality graphics possible, while also utilizing blockchain technology to be able to virtually deliver the sensation of a real casino.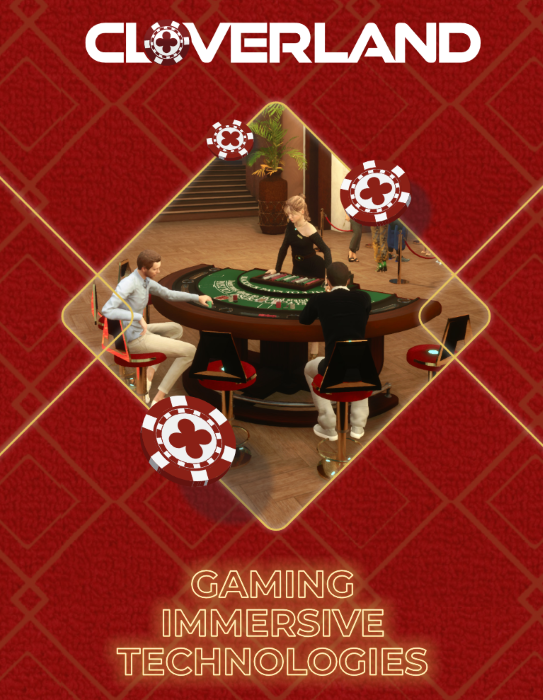 Cloverland also integrates the world's most advanced real-time 3D creation tool, Unreal Engine (which is what supports the development of an immersive VR (Virtual Reality) and XR environment, including the creation of a dedicated location in the metaverse) in order to ultimately provide their players with an unparalleled experience in the growing online casino marketplace.
These new technologies allow Cloverland to gives its players the ability to gamble in the company's proprietary native crypto, called CLOV tokens, which are securely managed by that same blockchain technology.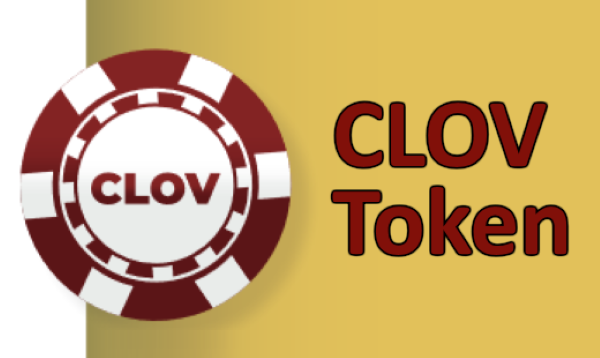 Not only that, but the combination of XR technology with blockchain technology also allows their players to create a full-body 3D avatar with selfies, which they can then use as their own virtual character in Cloverland's Metaverse.
Since Cloverland runs on a cross-chain framework that's supported by different devices, the platform is compatible with any web browser, any mobile device, and even with XR/VR headsets. That said, players can interact with one another regardless of their equipment, even if they don't have access to an XR/VR headset.
All Cloverland players will also have a personal NFT, which will be used primarily as an "Access ID" or "Personal Card". As such, each visitor will need to create their own personal NFT in order to gain access to all the games and services offered by Cloverland.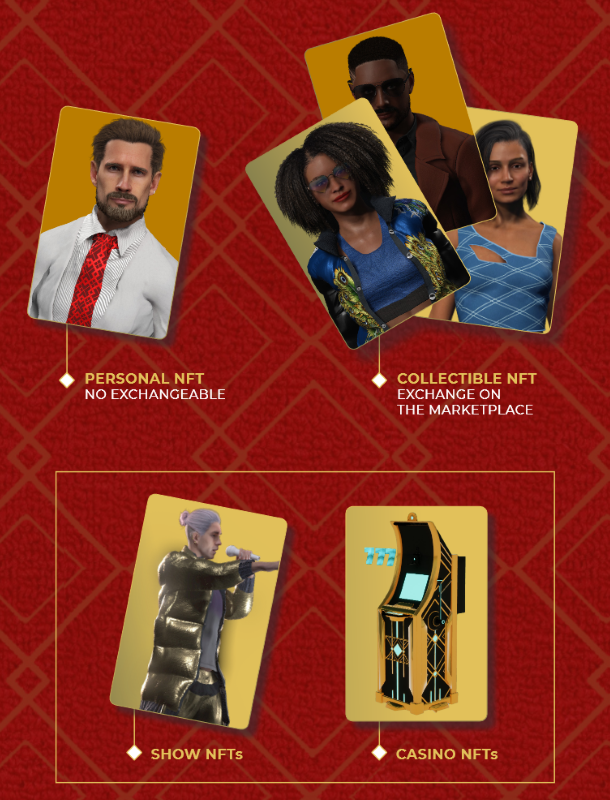 Currently, Cloverland offers its players a total of four (x4) casino games, which include poker, black jack, slot machines, and roulette, but the company is also planning on bringing more casino games in the foreseeable future. According to the Cloverland's official White Paper, the platform will not limit itself to offering just standard casino games. In the future, players will also be able to make sports bets, bet on e-sports players, or even play a game of chess with animated pieces.
Thanks to blockchain technology, each player's personal NFT can and will be used to increase their win/ loss ratio on certain games, as well as to track the time spent playing in the casino by each player in order to help control any potential level of addition, and also to see liquidity of each casino game / match in order to ensure the traceability of financial flows and to determine the ranking of each player in different casino games.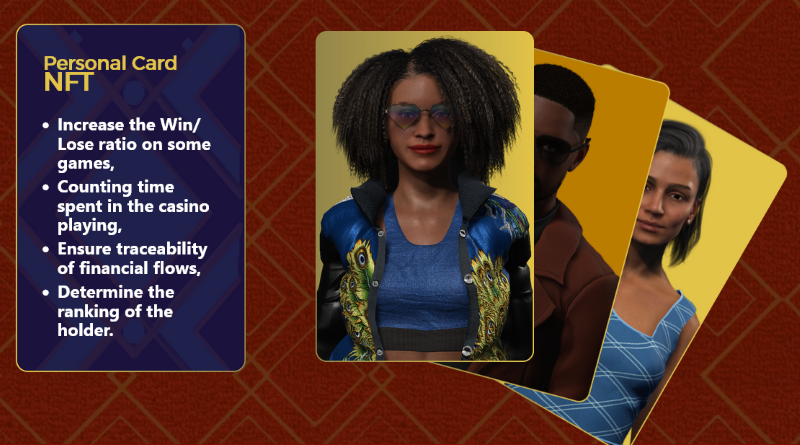 Cloverland's players are also provided with level up gains with dedicated NFTs. More specifically, every minute spent playing a Cloverland game or participating in a Cloverland event will increase the value of a player's personal NFT, as well as the value of the casino game they're playing. An algorithm will calculate each player's value, which will determine his rank based on collected data (results in and out of the casino, behavior).
There will be a total of eight (x8) different ranks available for Cloverland players, which from the bottom-level to the top-level, will go as: Bronze, Silver, Gold, Platinium, Diamond, Master, Grand Master, and Legendary. A player's rank will essentially allow for an increase (i.e. the leveling up) of that player's winnings made on certain games.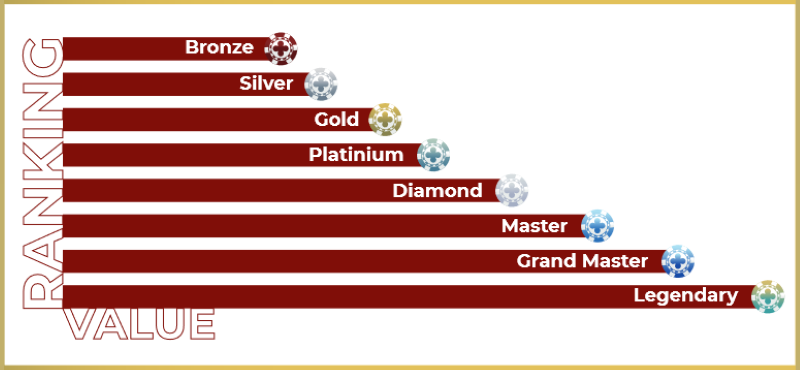 Note that a player's personal NFT cannot be traded or sold. Nevertheless, in addition to a player's personal NFT, there will also be collectible NFTs in the form of Mythical Casino Artwork with brand specific attributes which can be purchase with CLOV tokens via an "NFT Collector" (for which that system will be released at a later date).
 That includes NFT Shows, tickets to attend to top-of-the-class events taking place in the casino, and more.
---
If you're interested in learning more about JM2 Clover Gaming's interactive gambling platform, then visit Cloverland's official website.