HealthyWage Jackpot & Step Challenges proffering healthful weight loss motivation in a way that entertains, challenges and financially rewards good choices through game play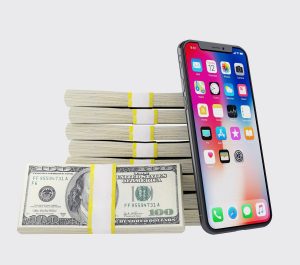 Wellness gamification pioneer HealthyWage—the world's leading purveyor of money-driven diet contests and challenges for individuals, teams and corporate wellness groups that has paid more than $52 million cash rewards for over 10 million collective pounds lost—today announced that its current round of weight loss "Jackpot" and "Step" challenges boasts a collective cash pot prize opportunity of nearly $95,000. The proof is in the performance in the form of quantifiable and undeniable metrics that behavioral economics-based gamification works to promote healthful weight loss. Exemplifying the power and efficacy of HealthyWage's approach are throngs of success stories (both female and male).
With reports indicating that four in ten American adults (about 41.9%) are currently obese, and with nearly 20% more states today suffering obesity rates above 35% versus the year prior, there are compounding concerns as the condition escalates nationwide. Not the least of which is untold millions of Americans needlessly putting themselves at higher risk of—or exacerbating—serious medical per CDC warnings. A Harvard School of Public Health report underscores an ominous trajectory if obesity is not aptly addressed by the end of this decade, revealing that, "if U.S. trends continue unabated, by 2030, estimates predict that roughly half of all men and women will be obese." Other dire study-driven forecasts through 2030 estimate a staggering "33% increase in obesity prevalence and a 130% increase in severe obesity prevalence over the next 2 decades," also noting that this reality would further hinder healthcare containment cost efforts.
Understanding the need for serious health-focused intervention to get America's collective weight-driven wellness trending in the right direction, category pioneer HealthyWage continues to tackle the U.S. obesity epidemic head on by using the psychological benefits of game mechanics to motivate weight loss. This as the company is helping more people than ever lose weight and get healthy through its gamification platform founded on study-driven behavioral science and economics principles validated by throngs of esteemed medical research institutions.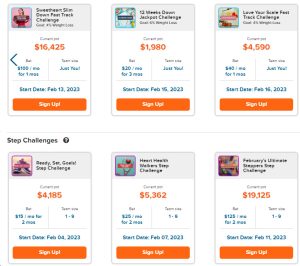 "Studies continue to show that monetary incentives serve to enhance the effectiveness of, and duly complement, weight-loss programs of any and all sorts, especially when paid out quickly like our various programs," said HealthyWage co-founder David Roddenberry. "Loss aversion is a powerful dynamic and the reality of having 'skin in the game' can propel the results of a gamified weight loss initiative. Indeed, a key element for the success of a gamification program is giving participants something to lose if they fail to meet their goal—whether tangible or intangible."
Whether one is dieting in a personal or professional environment, an array of studies reiterate the importance of the "stick" in the design of a wellness incentive program. "There are actually throngs of studies demonstrated that the threat of losing something of value is much more effective than the opportunity to win something of equal value," Roddenberry continued "That's precisely why we advocate that program participants 'pay to play' and make an investment out of their own pocket in order to win rewards—in our case large cash prizes—for losing weight and getting more active in the program. The average HealthyWager participant more than doubles their investment if they are successful at achieving their goal. The financial upside potential is impressive."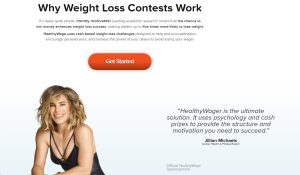 So effective is the company's diet gamification method, famous personalities have joined HealthyWage in the fight to get America fit. For one, the company partners with global health and fitness expert Jillian Michaels to provide free 6-month access to The Fitness App by Jillian Michaels for participants taking a HealthyWager challenge. Beyond the cash prize potential, this partnership additionally provides participants with custom workouts and meal plans—everything they need to succeed—along with other wellness resources like recipes and that related to meditation, mindfulness and sleep.
Other Credentialed Experts Weigh-In on Diet Gamification
Given the multitude of studies and reports upholding the efficacy of gamified health and wellness for both prevention and intervention, credentialed field authorities advocate the benefits of this approach—both related to general healthcare and to diet and fitness in particular.
According to Board Certified Sports Dietitian Tara Collingwood, MS, RDN, LD/N, "Losing weight and keeping it off is one of the most difficult behaviors to change. Making a game of increasing exercise and making healthier nutrition choices can be a powerful way to provide additional motivation.  People with a competitive streak in them love to have a way to play a game, but also get health benefits at the same time.  Having a financial investment or incentive adds another layer of motivation. No one likes to lose money or waste money with no return, either financially or with health rewards."
Kimberly Gomer, MS, RD, LD/N sees the many opportunities gamification presents in the nutrition and weight-loss space. "So many people rely on their smart phones and apps to provide them with information around how to get healthier and lose weight," she says. "Any app that offers both support and accountability is a huge asset to a program for those who enjoy that type of connection … Apps that offer fitness support and accountability are extremely helpful for those that want to include fitness in their lifestyle." She also believes it is critical not to rely on an app, alone, when it comes to nutrition and diet. "Each person has their own individual challenges around health and creating the pathway to reach their health and weight-loss goals," Gomer continues. "But, any support system strengthens the resolve and may make the experience more beneficial and more fun." She also says that gaming as it relates to diet and exercise can be particularly helpful for certain personality types. "The 'Type A' person who loves to compete will love participating in weight loss and exercise gaming challenges."
Nutrition expert William Toro, BHSC, appreciates the many ways that technology is spurring participation and success with wellness gamification, assuredly factoring into escalating category demand. "People find it easy to track their health issues, improvement, tasks to be set and reminders," he says. Specific to dieting, he further notes that people can set a diet plan, reminders not to take high calorie foods, watch videos to do complex exercise postures that are difficult to remember as well as contact and consult diet and fitness experts for any issue.

Beyond tech tools that can bolster game play, Registered Dietitian and Nutrition Coach Emily Tills, MS, RDN highlights the motivational benefits of gamifying wellness endeavors. "Most individuals cannot mind the motivation within themselves to do a certain task, build a habit or try to work out consistently," she says. "They don't find it fun enough or make excuses as to why they can be too busy to fit some of these things in. With the gamification of health and nutrition and apps, this can be a convenient way to challenge someone—especially when paired against their friends—to build a better habit. The game can add a layer of fun to things that they would usually find mundane or not worth doing. We also enjoy things that give us positive feedback; by beating a friend or leveling up with habits or exercise, we are constantly challenged mentally and physically to keep going and do more."
Health and Wellbeing Behavioral Science expert Casey Hughes, MA, MCHES, NBC-HWC, notes, "Gamification is increasingly popular in healthcare due to its ability to make redundant or anxiety-provoking experiences more dynamic and exciting." She clarifies that, while gamification can positively impact motivation, the focus should be on "progress, not perfection," explaining that "gamification for weight-loss is most effective when it creates an engaging environment for building healthy habits that encourages experimentation and iteration."
Specific to the weight loss wagering approach HealthyWage undertakes, Registered Dietitian Julianna Coughlin, MS, RD, LD/N, applauds the company's approach, citing that it is "a great way to incentivize and gamify weight-loss by bringing in outside stimulants, rewards and a community to help motivate those involved. Lack of motivation is one of the most common reason weight-loss efforts fail because people become disinterested and bored. I think HealthyWage is doing a good job of keeping the proverbial 'carrot in front of the horse' and the goal at the front of the participant's mind."
Registered and Licensed Dietitian Nutritionist Suzanne Fisher, MS, RD, LD/N, cites, "One of the most significant effects of gamification apps is providing a jumpstart to a healthy lifestyle and possible weight-loss. Changing one's behaviors can be difficult and often monotonous. Gamification motivates participants toward behavioral change using camaraderie in a fun and approachable way."
Kellie K. Middleton, MD/MPH, an Orthopedic Surgeon who places great emphasis on providing advanced orthopedic and sports medicine care, emphasizes how gamification is a powerful tool for engaging and motivating her patients toward their fitness ambitions. "It can help to keep people motivated and on track with their health and weight-loss pursuits," she says. "Some of the most popular apps for health and wellness, like Nike Run Club, CARROT and HealthyWage, are perfect examples of how effective gamification techniques can be in helping users achieve their fitness goals."

~~~
Merilee Kern, MBA is an internationally-regarded brand strategist and analyst who reports on cultural shifts and trends as well as noteworthy industry change makers, movers, shakers and innovators across all categories, both B2C and B2B. This includes field experts and thought leaders, brands, products, services, destinations and events. Merilee is Founder, Executive Editor and Producer of "The Luxe List" as well as Host of the  "Savvy Living" lifestyle TV show that airs in New York, Los Angeles, San Francisco, Miami, Atlanta and other major markets on CBS, FOX and other top networks; as well as the "Savvy Ventures" business TV show that airs nationally on FOX Business TV and Bloomberg TV. As a prolific lifestyle, travel, dining and leisure industry voice of authority and tastemaker, Merilee keeps her finger on the pulse of the marketplace in search of new and innovative must-haves and exemplary experiences at all price points, from the affordable to the extreme. Her work reaches multi-millions worldwide via broadcast TV (her own shows and copious others on which she appears) as well as a myriad of print and online publications. Connect with her at www.TheLuxeList.com and www.SavvyLiving.tv / Instagram www.Instagram.com/MerileeKern / Twitter www.Twitter.com/MerileeKern / Facebook www.Facebook.com/MerileeKernOfficial / LinkedIN www.LinkedIn.com/in/MerileeKern.
***Some or all of the accommodations(s), experience(s), item(s) and/or service(s) detailed above may have been provided or arranged at no cost to accommodate if this is review editorial, but all opinions expressed are entirely those of Merilee Kern and have not been influenced in any way.***