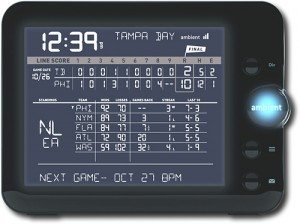 Adding to their line of products that provide information at a glance, Ambient Devices today unveiled the new Cirrus 7 Day Forecaster and Centerfield Baseball ScoreCaster. Designed to provide easy access to frequently checked information, Cirrus and Centerfield deliver up-to-date information on a unique, large and easy-to-read display. Just in time for the holidays, Cirrus 7-Day Forecaster and Centerfield Baseball ScoreCaster are available at Best Buy.
Cirrus provides weather updates from AccuWeather.com for over 150 U.S. locations. Cirrus receives data from the free Ambient InfoCast™ Wireless network. No PC, Internet, or WIFI connections are required. Cirrus delivers up to date high and low temperatures, wind speed and direction, precipitation, UV index, and even pollen & air quality updates.
As the temperature changes so does Cirrus. With the color-changing dial feature Cirrus gives you the temperature instantly, even from across the room. As the temperature varies, Cirrus changes its dial color to reflect the weather outside, said Andrew Boch, VP, Ambient Brand. Ambient provides easy accessible information at a glance, with no setup in a clean, crisp, and stylish device. Youll never wait to the top of the hour for a weather report again.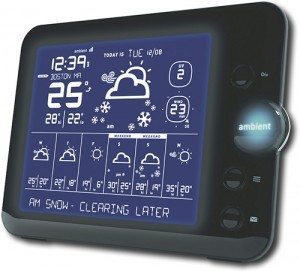 Cirrus features include a large, easy-to-read icons that show the AccuWeather.com forecast, including high/low temperature, current temperature, precipitation, wind speed & direction, UV index, pollen air quality and temperature trends. There's a favorites button for instant access to up to 5 locations, dimmable back lit screen and adjustable kickstand for easy viewing.
Centerfield automatically receives scores, schedules, and standings for every major league baseball team, from spring training to the fall classic. Centerfield works right out of the box without any setup. Simply plug it in (an AC adaptor is included) and receive updates in minutes.
The unique color-changing dial corresponds with your teams game status. Centerfield is the diehard baseball fans best friend. Get all the info you need at a glance, while at work or at home says Boch. From Spring Training to the World Series, Centerfield always knows the score and never misses an inning, all season long.
Centerfield receive scores, schedules, and standings for every team and every game, from spring training to the Fall Classic. The dial color glows green when your team is winning, red when they are behind, and yellow if its a tie ball game. It also displays starting pitchers and the home/away status. Cirrus ($149.99) and Centerfield ($129.99) are available at Best Buy. (www.ambientdevices.com)