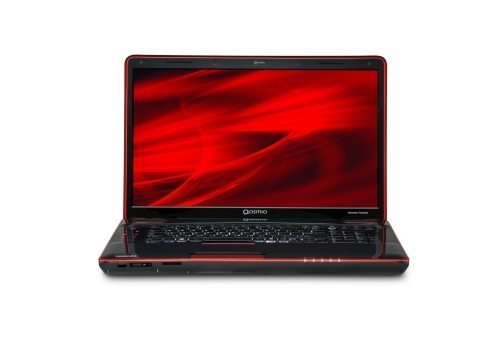 Toshiba is set to deliver the goods for HD content lovers and gaming enthusiasts by introducing the Qosmio® X500 Series, a portable, well-equipped "pro-class" laptop. Featuring Windows 7, Intel's Core i7 processor, Intel's Turbo Boost Technology and NVIDIA® GeForce® GTS 250M graphics, the Qosmio® X500 provides high-performance technologies to rip through the
latest 3D games at lightning-fast frame-rates or create hi-definition video and audio faster and more efficiently with smooth rendering and encoding.It also features a new premium design–Toshiba's strikingFusion Finish in Omega Black with stylish red chrome accents.
Intel's Turbo Boost Technology automatically allows processor cores to run faster than the base operating frequency if it's operating
below power, current, and temperature specification limits. The laptops also offer ultra-fast DDR3 system memory and dual hard-drive configurations.
For hi-def lovers, select models of the Qosmio X500 Series laptops will be available with an integrated Blu-ray® drive, so movie fanatics can enjoy their favorite movies right from the laptop's stunning, high-definition18.4-inch diagonal widescreen display. A premium sound system featuring built-in harman/kardon® speakers and Dolby® Home Theater audio and an
integrated HDMI-CEC port amplifies the entertainment experience, while adding the flexibility to extend the laptop's playback capabilities to HDTVs and home theaters.
Aside from the sporty looks and the beefy engine, the Qosmio's intuitive touchpad with multi-touch control has to be the winning feature here. It enables greater flexibility to browse and control what's happening on-screen with gesture-commands,
such as two-finger pinch, swipe, rotate and scroll.
"Gaming and high-definition content creation continue to drive high-performance PC demand and Toshiba is extremely committed to serving those markets," said Carl Pinto, vice president of product development, Toshiba America Information Systems, Inc., Digital Products Division. "This line (Qosmio) combines premium design users crave with the highest quality of Toshiba engineering to offer one of the best audio-visual experience currently available on a laptop, at prices attainable for those who need
it." (http://laptops.toshiba.com/laptops/Qosmio/X500, $1449.99-$1889.99)