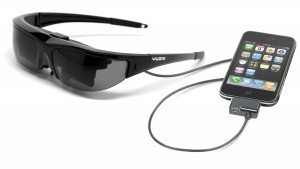 Vuzix Corporation, the leader in video eyewear for the consumer, defense and low vision markets, launched the Wrap 310 in September. The Wrap 310 features twin high-resolution video displays, project a 55-inch screen and include removable noise isolating earphones.  Powered for up to 6 hours on just 2 AA batteries, the Wrap 310 accepts video from almost any video player, including the iPod and iPhone.
With composite video input and optional VGA and component compatibility adapters, the Wrap 310 is the most versatile pair of video eyewear on the market. Image viewing is stellar. Additionally, as the first video eyewear designed for upgradeability, the Wrap 310 features an expansion port designed to provide the product with near limitless compatibility.  In addition to the soon to be available VGA and Component adapters, Vuzix has plans for exciting accessories designed to keep the Wrap 310 on the cutting edge.
"The Wrap 310 is the first device to merge the look of video eyewear and traditional sunglasses into one," said Vuzix CEO, Paul Travers.  "We are excited to be a part of the mobile video revolution and are thrilled to be globally unveiling the Wrap 310 at Showstoppers for the Digital Holidays and the Tokyo Game Show," added Travers.
The Wrap 310 also features an improved on-screen user interface, included independent focus adjustments for users with corrective lenses and still features compatibility with all major 3D video formats.  Users now have the option to select various lens colors to personalize their Wrap 310. Compatible devices include all iPod/iPhone models, portable DVD players, mobile phones with video output, PCs, TVs, DVD/Blu-Ray Players and portable media players.
The Vuzix Wrap 310 has a MSRP of $249.95 and is shipping worldwide. (www.vuzix.com)