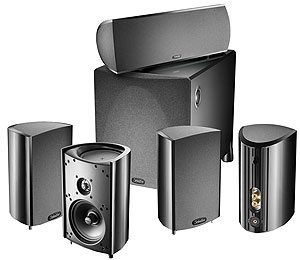 Baltimore's Definitive Technology introduced the ProCinema 800 home theater speaker system, a distinctly smaller system than Definitive's norm. The Definitive Technology ProCinema 800 System is a high-end home theater speaker set, more specifically a six piece, 5.1 channel home theater system complete with one ProCenter 1000 speaker, one ProSub 800 subwoofer, and four ProMonitor 800 Satellite speakers- all available in black or white.
Definitive Technology claims that "Sonically, the ProCinema 800 System is a revelation in terms of achieving incredible sound at an affordable price."  The ProMonitor Loudspeakers are small but full-range with a midrange and bass strength, uncharacteristic of most satellite speakers.  The Center Channel plays loud and clear, and since 75% of movie soundtracks, dialog and sound effects are played by the center channel loudspeaker, making it arguably the most important speaker in a home theater system, Definitive Technology paid some extra attention to getting this module right. Finally, the ProCinema 800's subwoofer blows out 300 Watts of teeth-rattling bass.  The net radiating area of the 600 sub is 27% greater than a single 10-inch woofer but with better speed, pitch definition and control.
The 800 system is powerful but capable of being subtle, which makes it a winner for music or movies. The ProCinema 800 is a remarkably sophisticated product with huge sound. The system's components incorporate many of the same technologies as Definitive's top-of-the-line models including BDSS drivers.
The 800 satellites can be shelf-mounted with their unique tri-lobed base, wall-mounted using the built-in keyhole mount or optional ProMount 80 pivot mount or stand mounted with their option al floor stands. The center channel speaker has an adjustable foot for shelf mounting or can be wall-mounted using two optional ProMount 80 articulating brackets. To make adjusting the subwoofer's output as easy as possible, the company placed the sub volume control on the side of the subwoofer's enclosure.
Definitive Technology ProCinema 800 System 5.1-Channel Home Theater Speaker System ($1200) is available both as an all-in-one-carton system (Black finish only) for greatest convenience or a la carte with each of the components packaged separately so that you can custom design a system that perfectly meets your needs.