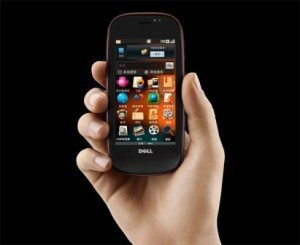 Dell, now the world's third-largest PC company, is expanding into the phone business by launching it's first Google Android-powered smartphone in China and Brazil.  It's called the Dell Mini 3, a keyboardless touch-screen phone that runs Google Inc.'s Android operating system, and it looks like a Palm Pixie, but with many more features and obviously a more robust operating system, Android.
Dell was one of the first computer makers to pair up with wireless carriers to sell subsidized netbooks with cellular data plans. A partnership with China Mobile facilitated the Mini 3 launch, which the two companies predicted back in August when they showed off a prototype of the Mini 3 at an event in Beijing.
Michael Tatelman, vice president of sales and marketing for Dell's global consumer business, said Dell wants carriers to have some control over the way the phone works, hence their choice with the Android OS. The Mini 3 will be part of China Mobile's forthcoming OPhone line.
No specs released for the Mini 3, but Tatelman said it has a 3 1/2″ HD screen and robust audio. It uses a touch-screen keyboard instead of a physical one. The first Dell Mini 3s won't have Wi-Fi because of an earlier government ban on the technology. Tatelman said that over time, China's homegrown wireless technology will be built into the phone. By the end of the year, the Dell Mini 3 phone will also be available in Brazil through Claro, part of America Movil SA, Latin America's largest mobile phone carrier.
Filings with the FCC also forshadow a US launch. There is still no news on when we are likely to see the Dell Mini 3 launch in the US and Europe, although Dell has confirmed that they have partnerships with Vodafone in Europe, and AT&T in the US for the Dell Mini 3 Smartphone.
"Our entry into the smart phone category is a logical extension of Dell's consumer product evolution over the past two years," said Ron Garriques, President, Dell Global Consumer Group. "We are developing smaller and smarter mobile products that enable our customers to take their internet experience out of the home and do the things they want to do whenever and wherever they want."