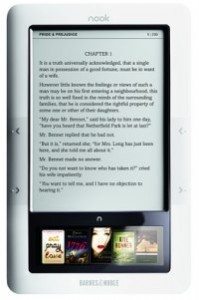 Barnes and Noble unveiled a new e-book reader called 'Nook', and it looks like the eReader to beat. Nook looks a lot like Amazon's white plastic e-book reader, only instead of the chiclet-keyboard there is a color multitouch screen, to be used as a keyboard or to browse books, cover-flow style. The machine runs Google's Android OS and it will have wireless capability from AT&T.
The Nook will retail for $259 and will feature two screens: a small LCD touchscreen at the bottom of the device and a standard 6-inch eInk display above the smaller screen. The Nook is available for pre-order and will ship on November 30. One of the most interesting aspects about the device, besides the two screens, the 2 gigabytes of on-board memory and the microSD card slot, is that B&N will allow users to lend books to their friends, and this has the potential to destroy the Kindle model. One of the biggest problems with e-books is that you can't lend or re-sell them. If B&N is selling e-books cheaper than the paper versions, then the resale issue is moot. And lending, even if your friends need a Nook, too, takes away the other big advantage of paper. this loaning function could be viral in the sales numbers Nook hopes to achieve.
Users will be able to lend out books for up to 14 days at a time.This is definitely an area where the Nook can outshine the Kindle. Users can just select a book and then send it to their friends' Nook, iPhone or iPod touch. And just like the Kindle, the Nook will also allow users to synchronize books across devices, so that the Nook knows where a users last stopped reading a book on the iPhone, for example.
The Nook will come in different colors, and as far as eBook standard go, the Nook will support EPUB and PDF documents. In addition, the device can also play MP3 files.
The $260 Barnes and Noble Nook–same price as the Kindle 2–has the regular black-and-white E Ink display and a 3.5-inch color touchscreen. The latter allows users to browse books. The Nook also comes with built-in WiFi, MP3 player and supports open formats such as EPUB. Nook users have features such as bookmarks, and the ability to share books with friends for up to a fortnight through other e-readers, smartphones or computers.
Barnes and Noble has said Nook customers will have access to its online bookstore that includes books, newspapers and magazines, as well as books from the Google Books Project. The Nook itself can hold up to 1,500 e-books. Just like Amazon's Kindle and Sony's Reader Daily Edition, the Nook will also be able to download books wirelessly. To facilitate this, B&N has made a deal with AT&T, and is squarely focused on the US.
Unlike Amazon, which only supports the Kindle, B&N supports a multitude of devices, including iRex, the Que, BlackBerry, iPhone and Motorola Cliq. Thanks to a partnership with Google, B&N also gives its users access to over 500,000 public domain books – another feature that is currently not available on the Kindle. www.barnesandnobile.com/nook.
The Nook looks like it will pressure Amazon' holiday season, and continued sales going forward. While Amazon could bank on the name recognition of its own brand and the Kindle so far, B&N will surely get a lot of publicity out of this launch, and the Nook has some extra things going for it.