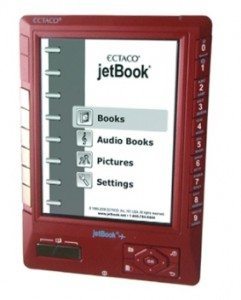 The Ectaco Jetbook is the first eBook reader that really put eReader devices on the map for most people. With many different features that make e-reading a fairly painless experience, the Ectaco Jetbook fulills a lot of needs including at TFT LCD screen and support for multiple languages.
ECTACO took a different approach using e-Ink screens. The Jetbook uses a reflexive LCD screen. The LCD screen, is similar to an LCD monitor or television but does not contain an internal back light. Instead it relies on ambient light reflected from the screen, similar to those you might see on a calculator or watch.
When the JetBook is connected to the computer with the USB cable it mounts as a mass storage device just as a USB thumb drive does. An installed SD card also mounts as a separate device. There is no software that comes with the device to manage it and it is not needed. You can use your PC's file manager, which is a simple yet well-thought out feature for avid PC users.
Of course the important part of the book reader is the contents of the "Book" menu. The book menu brings you to a screen that lists folders and files. The folders are sorted at the top and the books under them. The folders and files shown on the books menu mirror that of the folder and file names on the device storage. This is very nice and allows you to organize your library on the device in any manner you wish.
The Jetbook also supports an SD card of up to 2 gigabytes. Any folders and files on the card are merged in with the folders on the device. If the same folder name exists in both places it only shows up once on the device. This is a nice touch. From the menu you can also bring up options. You can sort the book menu to list books alphabetically by author or title. Pressing the menu button while in the book menu allows you to change the sort order.
The Jetbook has some great features. It has a good looking screen that is very fast. The library management with fully nested folder support is a feature I have seen many beg for on the Kindle, Sony and CyBook. Navigating through hundreds or thousands of files would be no problem with a well organized folder structure. The device is also a nice size. While you don't get as much on one screen as you will with a 6-inch device it is certainly better than a cell phone or PDA screen. The more compact size will make the Jetbook a nice device to take with you on the road. ($199)