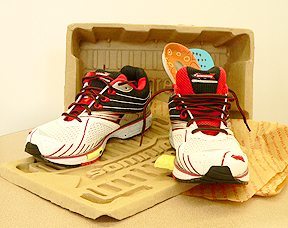 Somnio Running, based in Santa Cruz, takes the tailored running shoe to an all new level. The Somnio system includes three types of foot beds; cushion inserts with differing densities for the heel and forefoot areas; and varus wedge inserts made to help align the foot and lower leg. When mixed and matched these components and custom configurations can create 11,644 combinations of unique shoe types, from the 3 unique designs they currently carry, including different setups for the right and left foot.
"In five years, this could be the way most people will buy running footwear," says the company. Developed at the biomechanics lab at the Boulder Center for Sports medicine in Colorado, Somnio shoes are finely tuned to the wearer's biomechanics, such as weight, stride and arch, based on detailed in-store foot measurements and gait analysis.
Dr. Andy Pruitt, an internationally known athletic trainer, was hired as a consultant to help develop and refine the Somnio system. Consumers go through a treadmill run and a foot analysis on Somnio's measuring device to make each unique pair. Arch comfort, leg alignment, cushioning, footstride and pronation control are among the benefits a Somnio customer might find, not to mention that it makes a runner more efficient, more comfortable, faster and less prone to injury.
"Biomechanically, human beings are made to walk, not run," Dr. Pruitt said. He noted the stresses put on the feet, ankles, knees, legs, hips, and back from excessive running. "We hope this shoe can give people a longer overall running career."
Customizing footwear is not exactly a new concept. Custom orthotics are a standard item at places like the Boulder Center for Sports Medicine, though they can cost hundreds of dollars. The Somnio running shoe, however, goes through much more thorough and rigorous measurements and customization to create a true extension of your foot.  Somnio running shoes start out at around $125. www.somniorunning.com