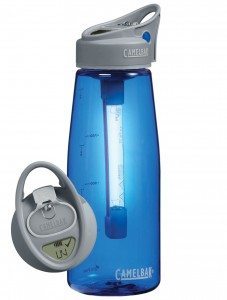 Camelbak has launched the All Clear UV Water Purifier Water Bottle, which contain a built in purification system that uses UV rays to kill 99.99% of all bacteria, viruses and other microscopic germs and impurities.
You simply fill the bottle with water, screw the cap on, hold down the power button for 4-seconds, and the UV system turns on and automatically starts purifying the water. It takes just 80 seconds for 900 cc (about a liter) of water to be treated, and all you have to do is flip the bottle upside down every ten seconds or so to make sure that it's being thoroughly purifyed. Once it's done, it will show that the water is okay with a little check mark on the LCD screen. Remove the UV bulb and store it in the protective sheath.
The Camelbak All Clear UV Water Purifier is either powered by two non-rechargeable CR123 batteries or can be bought with a rechargeable battery pack. The cap, complete with the purifying mechanism, can be used with most non-Camelbak models provided they have a 63mm cap.
The principle is basically the same as Steripen, but in a neat, self-contained package. The All Clear Water Purification neutralizes 99.99% of bacteria, protozoa, viruses, and other impurities. The LCD screen on the cap provides critical information regarding the progress of the purification cycle: cycle start, cycle time, successful cycle completion and battery life.
The UV bulb itself lasts for about 20,000 cycles. For about $130, you can get the whole kit, which includes:
• All Clear UV Water Purication cap
• 2 CR123 Batteries
• 1L CamelBak BPA-Free Tritan Bottle
• All Clear UV Protective Cover
The Camelbak All Clear UV Water Purifier is available now at www.camelbak.com and select retailers.