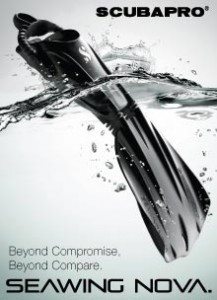 If you want to swim fast, try the new Seawing Nova Fin from Scubapro. It combines paddle fin power, acceleration and maneuverability with a split fin's effortless efficiency and comfort.
Its articulated joint, like that of a whale or a dolphin, lets the blade pivot, reducing drag while generating and maximizing thrust.  Traditional fins, which bend gradually as you kick, don't allow you to cover the entire surface of the blade to reach the 45-degree angle necessary for all that thrusting power that the Seawing Nova offers.
As you kick harder, the Seawing Nova's wing tips arc upwards, streamlining the blade, increasing high-speed stability and reducing drag.  ScubaPro calls this Variable Blade Geometry.  Also, the ERGO2 Super-ergonomic foot pocket is extra comfortable and the rigid 'Power Plate' foot plate extends to the back of the heel to ensure ultimate power transmission with less leg strain.
With High-Tech Elastomer Construction, the Seawing Nova is made from an extremely modern and durable material which provides superior technical characteristics and makes the fin both lightweight and virtually indestructible.  The fins can be easily secured on the foot or pulled off, thanks to the convenient marine-quality heel strap.  A pin system allows for easy customization and a comfortable fit. (www.scubapro.com, $190)