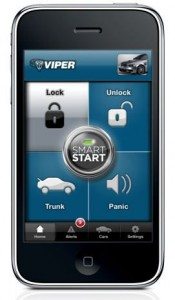 Directed Electronics, known for its many auto consumer-electronics brands, announced a system under the Viper label that's targeted at automobiles and can be controlled using a free iPhone application.
Called the Viper SmartStart, the system allows users to do practically anything they could do with their familiar car key fobs. Owners of a compatible Viper system will need to install the SmartStart Module, available from Best Buy for $299; a complete system is also offered at a price of $499.
Broken down, the new module connects to a 3G cellular network.  With the iPhone app (or an iPod Touch on a Wi-Fi connection), users can trigger the module to lock/arm, unlock/disarm, open the trunk, or activate the panic feature of the security system with a simple touch. The application's screen is divided into four quadrants, one for each feature. In the center of the screen is a fifth button, used to remotely start the car.
The realization of the cellular network connection looks very exciting with this particular innovation. Most key fobs can do these same functions at a range of 30 to 100 feet. This distance is reduced as the battery strength diminishes and with each obstacle between the remote and the vehicle. With SmartStart and cellular technology, users can now access the system from anywhere.
In addition, with a SmartStart module in every vehicle, one iPhone can now control every car in the household. Since the application must be assigned to each system, different users in the family can have their iPhones authorized to operate the system on specific vehicles. This can be a good way to keep teens from driving mom and dad's car when they're not home, since chances are good they will have their phone, which is also the remote, with them. In cases of an emergency, the vehicle can still be disarmed and opened from practically anywhere.
As with most devices that use a cellular carrier to provide a service, there is a subscription fee to use SmartStart. The first year of use is included in the price of the module. After that, the annual fee is $29.99. (www.viper.com/smartstart, www.bestbuy.com).