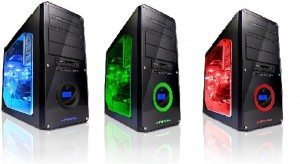 CyberPower Inc. has rolled out a trio of new AMD and Intel-powered gaming systems for Black Friday and Cyber Monday shoppers.
From now through the end of the Thanksgiving weekend CyberPower will make available three custom-built PCs with special promotions, extra mail-in rebates, and a 10% discount off the entire order whether the customer chooses the base model or customizes their gaming rig through CyberPower's "configurator."
CyberPower brings the latest platforms and technology with the Gamer Ultra 7500 featuring AMD's Athlon II X2 245 processor, the Gamer Xtreme 2200 powered by the latest Core i5-750 processor, or the Gamer Infinity 9000 with the highly overclockable Intel Core i7-920 processor. These puppies are serious gaming devices.
The least expensive is the Gamer Ultra 7500, which includes a AMD's Athlon II X2 245 CPU and 4GBs of DDR3 memory; NVIDIA GT220 graphics card, 24X CDRW, and a 500GB hard drive. The Gamer Ultra 7500 starts at $590 before any discounts and savings.
The Gamer Xtreme 2200, powered by the latest Intel P55 platform and the i5-750 processor with turbo-boost, includes 4GB of DDR3 memory; GT220 graphics card; 1-terabyte hard drive; 24X DVDRW; all starting at $805.
Finally, CyberPower offers its Gamer Infinity 9000. For those who want uncompromising power, the Gamer Infinity 9000 includes the overclocking friendly Intel Core i7-920 processor on Intel's X58 chipset. 6GBs of tri-channel memory is included for maximum performance and decrease load times. ATI's DX11 ready 5750 graphics card is included for smooth, detailed game play. A 1-terabyte hard drive and DVDRW is included for the starting price of $1,099.
All models come pre-loaded with Windows 7 Home Premium (64-bit) and will be discounted an additional 10%.  The series can be ordered direct from CyberPower and customized with a number of components, memory and drive options from the company web site.  All CyberPower computer systems come with a 3-year limited warranty and free lifetime labor and phone support. (www.cyberpowerpc.com, 800-707-0393)