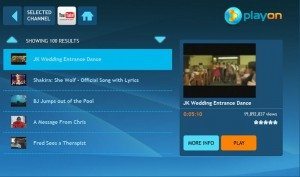 Over the past few year, the PS3, Wii, and XBOX360 have taken over almost every living room in the country. They are mainly gaming consoles, but they all have the power to be a great media server. PlayOn, a new program from MediaMall, will allow you to stream internet video through your Wii, PS3, or 360 and play it on your TV. PlayOn connects to Hulu, YouTube, CBS, ESPN, and CNN to bring you some of the best internet video content.
All you do is go to http://themediamall.com to download PlayOn. Once you're there, just click on "Products and Services" and you'll see PlayOn right there. Here you'll be able to download and install PlayOn, but there are two options. Option one is to download the trial version which should last you 30 days (this might change. Over the past few months they have offered 10 day, 14 day, and now the 30 day trial). Or you can purchase the software for $39 (as of right now, they are offering a $29 promotion). Once you have chosen which way to go, install the software on your computer. If you chose to purchase it, you will get an e-mail with your registration information.
PlayOn does have a few options you can tweak once it is installed, but the setup is pretty simply. If you have a Netflix or Hulu account, you can put in your user information so that PlayOn can access your account settings or stream information from those sites that are restricted. You do not need an account for Hulu, but putting it in gives you access to your favorites you have marked on the website. For the next step, all you need to do is make sure that your Wii, PS3, or 360 is hooked up to your come network and it turned on. On your main control panel, you should see an icon for PlayOn.  You're done.
MediaMall is on the verge of announcing their Wii PlayOn beta, which has been in quiet testing for a while now. What this means to you: For about $40, you'll be able to stream Hulu and Netflix to your Wii.
PlayOn's been around on the Xbox and PS3 since last year, as well as on all kinds of DLNA-compliant TVs—it's essentially a super-compatible web interface for video services that don't work on certain platforms—and Wii-ward bound was inevitable. This is a step, and a sign that the service will actually materialize sometime soon, but it probably won't include a specific, formal release date.
With the PlayOn support for Nintendo's Wii in Beta, this is the first time PlayOn is able to control the user interface. It is available for a free 14-day full-featured trial at www.playon.tv; after that it is a one-time $39.99 fee to purchase a license. It's the same software that supports the PS3 and XBOX360, so if you already have a license or active trial, it will work on your Wii as well.
PlayOn uses the "Internet Channel" on the Wii. You can find the PlayOn Media Server by opening the "Internet Channel" web browser on the Wii, pressing the "WWW" button, and entering the web address playon.tv. To upgrade your Nintendo Wii with the "Internet Channel" web browser, visit http://www.nintendo.com/consumer/systems/wii/en_na/channelsInternet.jsp#downloadOpera
MediaMall/PlayOn says Wii support has been one of the most requested features from their users. PlayOn offers the broadest selection of premium content available from Internet – to – TV providers (Hulu, Netflix, CBS, ESPN, CNN, Amazon VOD, You Tube) and our selection of niche content is growing daily via our open plugin architecture including: Academic Earth, Adultswim, Cartoon Network, Channel9, Crackle, Food Network, GameTrailers.com, HGTV, Local Files, NBA, NFL, Southpark Studios and Spike TV. (http://themediamall.com, $40