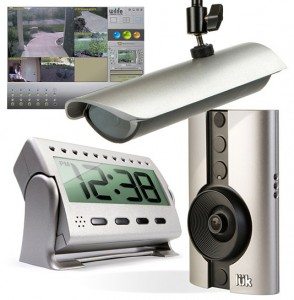 Traditionally, home security systems run a lot of money.  And if you get into outdoor cameras and accessories, you'll be doling out even more cash. And then there's the monthly service itself…..sometimes $50, $100 a month. Enter the Logitech WiLife Video Security System, which can be up and running in minutes, has an incredibly low monthly cost ($79.95/yr), and the complete system is very affordable.
The WiLife system consists of indoor and weatherproofed-outdoor cameras as well as a variety of night-vision accessories that easily connect to a PC via USB. Other accessories include a spy camera that looks like a digital alarm clock, and a USB adapter that plugs into a wall outlet, since the cameras are networked together over electrical wiring using HomePlug Technology.
The system is completely plug-and-play.  In other words, as soon as you power it and install the software, you're ready to go.  The software, or WiLife Command Center 2.5, gives you a view of every side of your house, assuming you've placed a camera in the appropriate areas, and motion-activated sensors record anything moving. The quality of the recordings has really raised the bar of home video security systems- bright, crisp and clear.
As mentioned, the command center is your PC and the WiLife Command Center 2.5 software. And you can access your cameras for free over the Internet, even via cellphone!  The system will alert you via e-mail if anything moves. Any prowlers in the area can smile big for the VGA-quality color movies that are being recorded.  And the WiLife cameras are not very big, but the outdoor camera is intimidating.  It looks like a sophisticated piece of hardware you might see in a prison or the Pentagon. The mere installation of these cameras, with their highly visible red and green lights (which can be easily turned off), serves as an impressionable deterrent.
This WiLife system newest software, the Platinum Edition add-on, costs $79.95 per year. It lets you electronically pan and zoom all the cameras at once, and store the footage online. Logitech really thought about this feature because if someone is robbing the house, the computer with all the WiLife footage will probably be one of the first things stolen. Sucks to be the robber. This footage is safely stored in CyberSpace, 100s, maybe thousands of miles from your residence, however very easily accesible.
The system is geared toward recording footage, so live viewing is a secondary feature. The cameras all have good low-light performance, but they require an optional infrared lighting system and special lens to actually see faces at night.
The Indoor Video Security Master System and the Outdoor Video Security Master system cost $299 each. With the Indoor Platinum Master Series, you get the Installation CD, an Indoor Camera, a USB Receiver, Power Supply, USB Cable, Camera Ethernet Cable, Suction Cup Mount, Desktop Stand and a Wall Mount Bracket. The Platinum Outdoor Master System Edition has a similar set. Each additional camera is around $215. There's also a Spy Video Security Master System ($329) that has the digital-alarm-clock-like camera and accessories similar to the Indoor and Outdoor Platinum Master System.
If you have worries about your home's security and are looking for a strong deterrent for petty criminals, WiLife is a sophisticated system without the huge investment. (www.logitech.com)