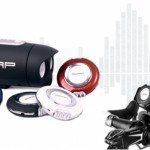 The Soap MP3 player from Korean manufacturer, Soap, is for the true cycling enthusiasts. It weighs just 30g, has 2GB of memory, clips into a Soap beanie (with built-in headphones) for personal listening or via ear-buds under a helmet. It even attaches to a Soap bike headlight/speaker box for sharing your tunes (even though it's directed at the rider). At only 1cm wide and 5cm in diameter, it doesn't take up much space either.
Download your music onto the Soap MP3 Player via USB 2.0. There's even a Bluetooth module that lets you listen wirelessly through your preferred headphones and the Li-ion battery provides around eight hours of listening pleasure.
The Sports Bike Audio unit attaches to the handle bars and has two 20W speakers that should be loud enough to hear over your cycling, and is also probably a safer option than headphones for city cycling. The built-in headlight has two 1W LED beams, making sure you don't get lost in the dark.
Pricing and availability for the Soap MP3 Player to be announced soon.