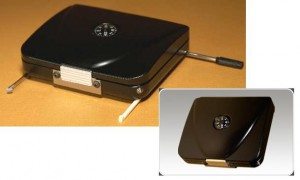 TMT makes high-end quality wallets that are designed for extreme conditions on land, sea and air. Each wallet is precision machined and assembled using anodized Aluminum or Delrin plastic.
Offering 2 models, the TMT – H20 Sports Wallet ($85) and the TMT – Tactical Wallet ($125). Both models come equipped with a built in compass, ink pen, tweezers, tooth pick, carbide glass breaker and they are o-ringed sealed to prevent water, sand, dirt or dust from entering the interior of the wallet. Each wallet also has removable stainless steel money & credit card clips, as well as two hidden secret interior compartments for medication, fishing flies, I-Pod, small Pocketknives and other items.
Both the H20 and Tactical models give you the ultimate in credit card information protection by actually blocking your personal information from the theft of RFID type scanning devises. Nice.
The "TMT- H20 Sport Wallet" is precision CNC machined from Delrin plastic. This wallet is designed to be very strong, light, water tight and float. It is also designed to be comfortable to carry in your back or front pocket, or it can be attached to a lanyard and worn around your neck or belt loop. The H20 Sport Wallet is the perfect wallet for the outdoorsman.
The premier "TMT-Tactical Wallet" is precision CNC machined from solid billet 6061-T6 Aluminum that is hard coat anodized for extreme wear, durability and appearance. The Tactical wallet offers the same features as the H20 Sports Wallet, but it's durability, versatility, and sleek appearance make it a more sophisticated choice for say, Bond…James Bond.
TMT Wallets are one of the most high tech and functional wallet lines I've seen.  While they're not exactly super-thin, they do pack some very useful features that some of us guys seem to always need. (www.tmtwallet.com)