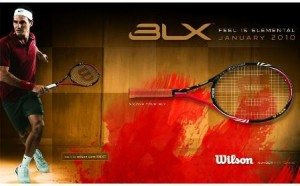 Roger Federer and Juan Martin Del Potro Debut New Rackets for 2010
After much anticipation, Wilson's new racket technology, BLX, is out and will be in the hands of the best tennis players around the world in January 2010.
But what is BLX? What makes this racket stand out from the rest? One simple word: FEEL!
BLX is the new Wilson racket technology engineered with BASALT fibers also combining proprietary frame, grommet and grip technologies for the perfect feel.
Basalt is a natural volcanic rock that can be used in manufacturing and made into ultrafine gold fibers. Basalt fibers are woven longitudinally with Wilson exclusive [K]arophite Black to create the most advanced composite in the industry. Like noise-cancelling headphones are filtering out unwanted external noise, Basalt added to the matrix filters the unwanted extreme frequencies in the racket.
BLX, the new Wilson racquet technology delivers a cleaner feedback and better sensation. (BL) stands for basalt which is combined to 9 other variables and in total, 10 (X) elements are all connected together for the PERFECT FEEL.
The 15-time Grand Slam Champion, Roger Federer, will be leading the way with his new Six.One Tour BLX racket starting in Abu Dhabi for his first match January 1, 2010. Federer's continued success is a result of Wilson's ever evolving technology and BLX is no exception.
"I know Wilson will always provide me with the best racket for my game with the latest technology" Federer said recently after switching to his new BLX racket. "This change will provide me with the added feel and performance I want to further enhance my game in 2010 and beyond."
Juan Martin Del Potro, the recent US Open winner and ranked #5 in the world, will also be switching to a BLX and a new family of rackets. Del Potro will be on the court with the Pro Tour BLX and looks to become even more of a threat on Tour. (www.wilson.com)