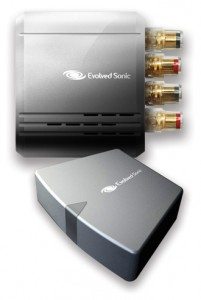 Evolved Sonic Solutions LLC (ES2), developer of all-digital wireless streaming technologies for commercial and consumer markets, announced delivery of its highly innovative ES2 Stream 2 System. The ES2 Stream 2 System wirelessly streams all your music from any audio device or computer to your speakers. It provides better than CD-quality HD signal to the amplifier with no reduction in audio fidelity.
The Evolved Sonic All Digital Streaming™ 2.0 wireless solution consists of an RF transmitter and receiver/amplifier. It solves the problem of excessive rack components.
"While our system performs at the highest quality level available in the market today, it also provides installers with an opportunity to complete projects that were previously suspended due to the high cost of in-wall wiring, or when wiring was not an option. It is the first commercially viable wireless solution in the marketplace today and it fits in the palm of your hand," said James Tiller, Chief Executive Officer, Evolved Sonic Solutions.
The transmitter is equipped for analog line level audio input via two RCA input jacks. The onboard high quality DAC converts the signal and then transmits it to an unlimited number of linked receiver amplifiers within a 100 foot radius.
Receiving the transmitted RF signal is the ES2 All Digital Wireless Amplifier, a very high fidelity 2 x 30 W/channel module. Do not let its compact size fool you. It will easily power the most demanding tower speakers, just as effectively as the old school mono-block AB linear amplifiers.
The extraordinarily high efficiency of the amplifier requires no cooling and can be mounted virtually anywhere, even on the back of the monitor, where it can directly power the speaker. The amplifier's control over the speaker is improved, making the speaker sound better than ever, all the while eliminating cost and expense of running speaker wires back to the rack.
With traditional audio systems you endure many hassles before you can enjoy your music. What components will you need and where will they go? Do I really need a rack of expensive components? What about the speaker wires and how much does that cost? With the Evolved Sonic ES2 Stream 2 System, these questions are mute.
"Nearly all music is now purchased, stored and managed in a digital format. From media servers to MP3 players to computers, there is simply no compelling reason why it needs to be converted back and forth between digital and analog multiple times. Once it exists in the digital format, it can be managed, distributed and amplified without loss, distortion or added noise. The Evolved Sonic ES2 All Digital Streaming™ technology is based upon this philosophy," states Stephen Saint-Vincent, Chief Technology Officer, Evolved Sonic Solutions. ($799, http://evolvedsonic.com)