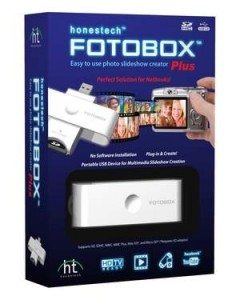 Honestech, Inc. announced the availability of FOTOBOX Plus, a USB device solution that enables the creation of rich multimedia slideshows from photos and videos.
Priced at $79.99, FOTOBOX Plus contains an integrated memory card reader, embedded PC software with FLASH memory, and automatically runs without any installation.  This makes multimedia slideshow creation more convenient for both novice and professional computer users.
The FOTOBOX Plus has two modes: the Easy Mode is recommended for users with limited knowledge of photo software or that don't require editing tools. Users can just import their photos, select their favorite theme template and view their final creation.
The Advanced Mode is designed for those that want more control over their slideshows, offering photo editing capabilities, themed templates, motion effects, and title, background music and narration options.

The technology is compatible with all Windows operating systems, including Windows 7, and can be used on netbooks, as CD and DVD drives are not required. FOTOBOX Plus supports high-definition MPEG video, with resolutions up to 1920 x 1080, and standard television resolution up to 720 x 480.
Basically with this software, you can plug-and-play the whole system into your PC without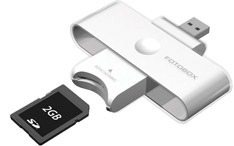 installing disc software. You then can manipulate your photos to create almost any type of presentation you can dream up.  The software allows you to publish the slideshows to multiple disc types, including DVD, SVCD and VCD, and multiple file formats, including MPEG 1, MPEG 2, AVI, DV-AVI and WMV. The multimedia can be directly uploaded to Facebook or YouTube, and put into iPod and PSP formats, as well.
The FOTOBOXTM Plus Software by honestech is available at Amazon.com, Buy.com, Micro Center, OfficeMax and others. (www.honestech.com)