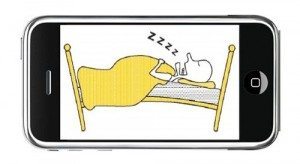 Snoring can potentially be more than an annoyance. Actual health problems have been associated with this condition, mainly sleep apnea– a breathing condition where you deprive your body of enough oxygen during sleep, causing you to frequently awake.
Now, a very affordable iPhone app ($2.99) has been announced by a telemedicine Finnish company, Remote Analysis Ltd, called the Sleep Aid, which allows you to use your iPhone to analyze your breathing problem when sleeping.
Remote Analysis' Sleep Aid app works by comparing the patient's snoring to a bank of pre-recorded snores captured in the app.
"This application is very easy to use. Just place the iPhone on your night stand, click 'Record' and go to sleep. In the morning click 'Wake up'. After this you can browse a graph based on the night time recording and listen to audio clips revealing your snoring. The app includes sample audio clips of regular snoring and sleep apnea. You can compare your own recording with the samples and conclude whether you might have sleep apnea", says CEO Ossi Tiihonen.
"We have developed the application with Qvik Ltd and medical doctors who specialize in sleep apnea diagnostics. The application can be used to screen sleep apnea or, for example, to gather evidence of your husband's snoring", says Tiihonen. (www.remoteanalysis.net)