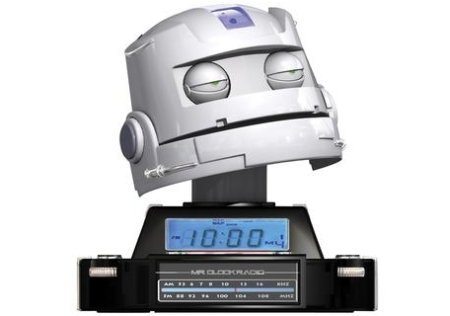 Mr. Clock Radio is novelty device which features a robotic head and a digital clock located from the base. Considered as the first animated radio clock in the world, this device features various applications which make this gadget perform impressive functions.
This robotic clock features an alarm clock system which can provide over 30 kinds of wake up call that can range from gentle whispering voice to shouting command (this wake up sound mode usually occur if a person pushes the snooze button too many times, forcing him to get out of bed immediately). With this feature, anyone can wake up on time to go to work or school.
The device also features a very futuristic design which seems like it was derived from a science fiction film. Its base is made of black rubber material which has chrome details.
Mr. Clock also provides entertainment media which include analog FM and AM radio (with tuner) and can also support music player devices such as iPod and MP3. With its impressive audio system, people can enjoy listening to their favorite song.
Other features are sound voice technology which tells the current time; light and motion sensitivity technology which makes the robot's eyes wink and blink; multiple wake-up setting which allows users to choose what kind of voice sound they would want to hear; LCD backlit display for time display; and 50 wake-up shows.
The total dimension of Mr. Clock Radio is 6-inch tall, 6-inch wide, and 5-inch diameter.
To add novelty features to this device, the radio clock is able to scold a person if he pushes the snooze button too many times in a row. It can also serve as a robotic fortune-teller and can answer yes or no questions from anyone.
This clock can be purchased from the company's web site or other online stores which include Walgreens, R & J Gifts and Collectables, and Sky Mall. This comes at a suggested retail price of $80.
Via: Gadgets Fan