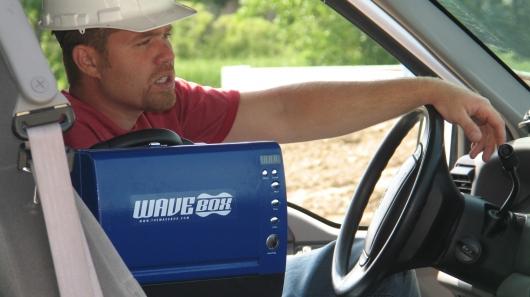 The impact of the microwave oven could be compared to the invention of sliced-bread. How could we ever get along without it these days. It can reheat frozen food or cook raw food in a fraction of the time required of a conventional oven and has brought the convenience of preparing food to new levels.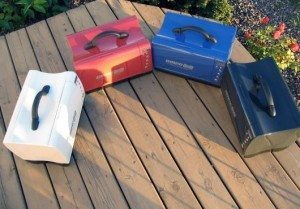 Now a portable microwave oven offers those same capabilities to people who need to prepare food away from the kitchen, or indeed off-the-grid entirely – truckies, RVers, boaties, campers … . The $250 WaveBox, weighing in at just 14 pounds.  It runs on mains voltage regardless of country, and can also run from a 12-volt battery using alligator leads, or from your in-vehicle power outlet.
The world's first truly portable microwave makes it easy to have hot food and drink at work, at play and on the go. Compact, rugged and easy to tote, the WaveBox brings cooking power where you want it most. An advanced electronic design allows it to be powered through the cigarette lighter socket on most vehicles, connected to the battery-or from ac power at home or work.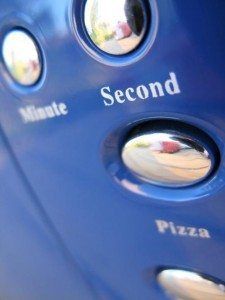 The WaveBox blends the convenience of its compact size with a power system able to heat food on the go. Cooking performance is comparable to many in-home microwaves when connected to ac or direct to battery dc (cooking speed varies by the car's amperage when the WaveBox to the cigarette lighter connections in their vehicles).
Two extra-long dc cords are included for vehicle use. One connects with clips to a vehicle battery, and the other plugs into the vehicle power socket. Voltage options include 120v ac, 12v or 24v dc. Wattage options include 660w AC direct connect, 240w vehicle-power-outlet (20 amp circuit required),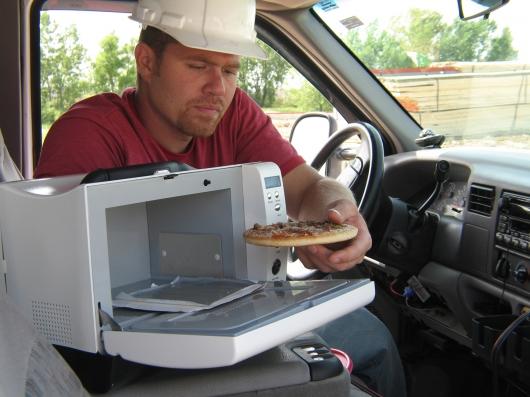 The WaveBox comes complete with a 3-foot AC cord, and 9-Foot DC direct cord with alligator clamps, and a 5-foot DC power outlet cord. This little guy only measures 15x10x11.  The interior houses 10x7x6-inch food options.
An integrated coolbag soft side cooler fits inside the WaveBox to keep items cool until you¿re ready to eat or drink. Three quick-cook preset buttons allow for one-touch heating, while the LED display gives you timer and power-level information.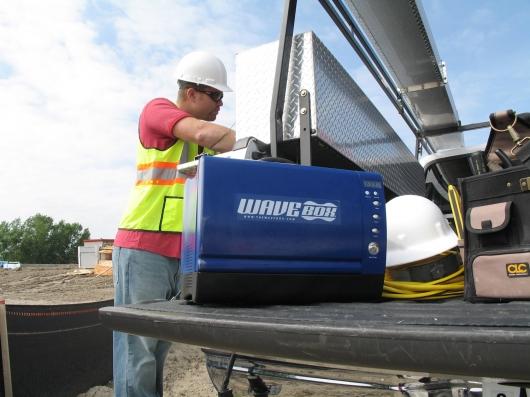 The shell is made of reinforced, weather-resistant abs plastic, with rubber footings on the base and a luggage quality handle.  Available through (www.thewavebox.com)