Garmin recently announced a couple of new editions to their flagship GPS line, the Garmin Oregon 450, and Garmin Oregon 450T.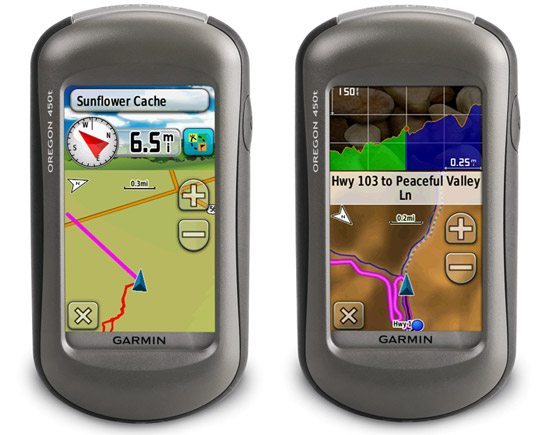 They both feature a bright 3″ color display, newly added user-selectable dashboards, enhanced track navigation, and also high-speed USB for faster map transfers.
You've still got the photo navigation and the 3-axis tilt-compensated electronic compass, which is a must if you're lost in the wilderness. Of course Garmin Oregon 450 and 450t does feature a barometric altimeter, the necessary software for easier geocaching, and wireless exchange of tracks, waypoints, routes and geocaches.
Both Garmin Oregon 450 and 450t come with a worldwide shaded relief basemap, but the Garmin 450t adds a preloaded 100K topographic maps for the U.S., including 3D elevation perspective.
Garmins 450 & 450T weigh 6.8 ounces, and can last up to 16 hours on two AA batteries. They feature a GPS receiver with HotFix which kinda mimics A-GPS technology. They come with 850 MB of internal memory and a microSD card slot for photos and other optional map data.
Neither come with a digital camera. The Garmin Oregon 450 MSRP is $400, and for the Garmin Oregon 450t, $500. (www.garmin.com)