Imagine what it would be like if you could view your favorite full-length film while in the comfort of your office chair, riding on the train, waiting at the doctor's office, or even while waiting in line at the coffee shop! Your colleagues will want to share the headphones with you on your next plane ride. Your friends and family will be eager to spend time with you so they can catch a glimpse of the coolest watch on the market: The Home Theater Watch.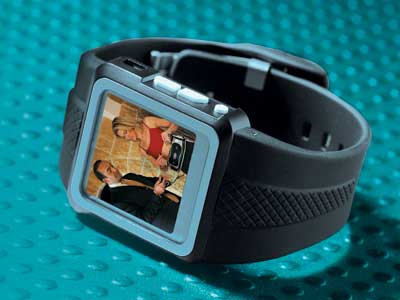 Just like the name suggests, The Home Theater Watch is designed to give you the experience of a home theater with the functionality of a watch. This means that you can tell time and watch your favorite movie right from your very own wrist. Complete strangers will be in awe as they stand in line with complete boredom at the Department of Motor Vehicles and you are watching the latest releases on your wrist.
Now, as every word travels from this article into your mind, you can experience a universe of your favorite entertainment at the ready in any circumstance. With 2GB of built-in storage, you will be able to store a full-length feature film on your watch. In addition to being a video viewer, the Home Theater Watch plays MP1, MP2, or MP3 and WMA audio files, and allows you to view JPEG images. The screen is a stunningly LARGE 1.5 inches and features a brilliant 260K color display capability. Your videos and images will look just like they do on your PC.[adsense]
Connecting the Home Theater Watch to your PC is as simple as connecting any USB device. That's right! This is a USB device. Simply connect the Home Theater Watch to your PC with a USB cable, and load the included software on to your computer. Included is a software package that will convert your ASF, AVI, MPEG, WMV, DAT/VCD, and ASX files to the format required for the Home Theater Watch. You can even rotate the orientation of the video as well as any images you'd like to store on the device. Enjoy your music, enjoy your movies, and now enjoy the daily grind! Order today to put yourself in a whole new world of entertainment.
You will have as home theater experience available everywhere you go. You can even use it to show people your favorite television shows or prime time specials. Simply convert your video from any of the digital formats listed above, and you will have your favorite television episodes whenever and wherever you want. Imagine watching your favorite sitcom while stuck on the train commute to work in the morning or while sitting in a traffic jam.
via: eparty unlimited