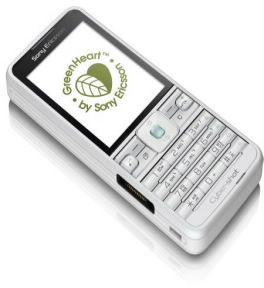 Sony Ericsson has unveiled the launch of Green Heart phones by using electronic manual, recycled plastic, power chargers (low power). With the intention to launch its two GreenHeart phones called the Naite and C901 Sony Ericsson is being more responsible to make the environment sustainable with its eco-friendly phone. The casing of the C901 phone is made up of with fifty percent recyclable plastic which is given a water-based color. The users will get an electronic manual and a compressed packaging on purchasing the phone.
Naite is also manufactured by using the recyclable plastic and it ships with a low power charger that uses only 30 milliwat of electricity. This phone comes with an electronic manual along with a condensed packaging.
Some of the features of Sony Ericsson C901 includes face detention, 5 mega pixel camera with Xenon flash and 16x optical zoom, Bluetooth stereo A2DP connectivity, smile shutter, GSM/GPRS/EDGE, one click uploading and memory stick micro slot.
Via: Mint Gadgets