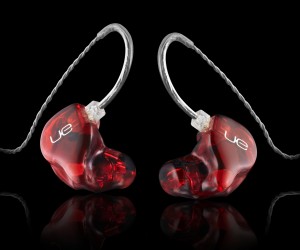 You won't find the average joe wearing Ultimate Ears, as they are designed for the professional in the music business, but the latest Ultimate Ears 18 Pro Custom Monitors may reach a wider audience. The UE 18 Pro Custom Monitors feature the company's first six-speaker design, that offers one-of-a-kind sound definition and clarity. They are considered Ultimate Ears' flagship product.
There are six individually tuned drivers in each ear.  Each bud manages to fit two woofers, two midrange and two treble drivers inside, as well as a four-way crossover and three-channel design that the company says keeps the frequencies isolated until they reach your ear drums.
They also have ambient noise reduction of 26 dBs, and vocal clarity in the mid range as well as a powerful low end. The UE 18 Pro monitors are compatible with wireless transmission systems and portable media players. They come packaged in an aluminum "roadie box" and require "ear impressions" by an audiologist before you can wear them.
The Ultimate Ears 18 Pro Custom Monitors are perfect for performing artists or the hardcore audiophile, and will retail for $1350.  (www.ultimateears.com)
How to Wear Ultimate Ears Custom Monitors