Tiffen, a company that manufactures Steadicams, a video device with a stability arm, has now developed one for the iPhone 3GS called the Smoothee.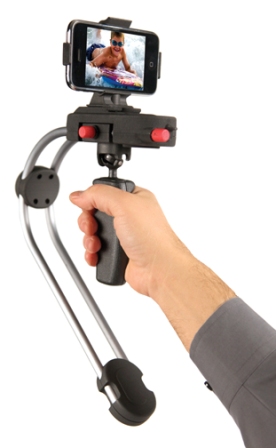 Steadicam is a small handheld device that has long been used in TV and film productions to create smooth and steady handheld shots.  Essentially it uses a set of counter weights to steady the shakes and bumps that you're footage would otherwise experience when shooting by hand.
The Steadicam Smoothee for iPhone sports a super-light metal frame with quick-release grip to hold the phone itself; a rigid vertical handle; and the Steadicam stabilization technology that keeps the camera still and steady while you're moving it around.
The iPhone grip also detaches for use as a desktop support, or it can be attached to a standard tripod.
This isn't the first steady-video device for iPhone. iSteady Shot was there first. It costs just under $100.  The Smoothee, with its more refined curves, is likely to cost a lot more but pricing has not bee released.
Pro-standard Steadicams for professional film-makers cost tens of thousands. Here's hoping that this more consumer-oriented gadget will have a more consumer-oriented price. The Tiffen Smoothee Steadicam for iPhone should be available to buy later in the spring. (www.tiffen.com)