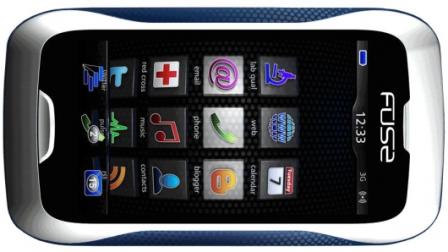 Synaptics Inc. announced the Fuse™, a collaborative mobile phone concept, demonstrating the future of user interaction for handsets. Integrating for the first time multiple interface technologies—including multi-touch capacitive sensing, haptic feedback, 3-D graphics, and force, grip, and proximity sensing—the Fuse concept phone showcases exciting new mobile device usage models.
Fuse extends the now-prevalent touchscreen-based user experience with Synaptics' award-winning Onyx mobile concept. With Fuse's bold lineup of innovative interface technologies, Synaptics and partners tackle the difficulty of single-handed usage and the need to look at the screen—two key challenges faced by touchscreen phones.
[adsense]
Fuse's innovative sensing technologies surrounding the entire device enable quick, intuitive, single-handed navigation. For example, grip sensing and capacitive touch sensors on the sides of the phone allow you to execute common controls such as pan and scroll. In addition to the side sensors, Fuse introduces for the first time, 2D navigation from the back of the phone. This feature offers another mode of single-handed control without obstructing the display or enhanced usability.  Fuse combines multiple sensory input and feedback technologies including active 3-D graphics and next-generation haptic effects.
"Consumers have many options when it comes to choosing a smartphone, and though many phones are loaded with applications to simplify one's life, they often accomplish just the opposite," said William Stofega, research manager for mobile device technology and trends at IDC. "Synaptics partnering with innovative industry leaders to deliver an intelligent concept device that has the consumers' lifestyles in mind will help showcase the true potential of the smartphone."
[adsense]
The Fuse mobile phone concept is the result of a unique collaboration between Synaptics and four global partners—TheAlloy, The Astonishing Tribe (TAT), Immersion, and Texas Instruments Incorporated (TI). With human interface and digital lifestyle in mind, the Fuse design team created an interface with innovative new modes of sensing input, and visual and haptic feedback.
Additionally, Synaptics' ClearPad™, NavPoint™, and TouchButtons™ solutions are used in the Fuse mobile concept to offer unique capabilities—such as two-finger input, proximity sensing, grip sensing, text entry, and high-resolution finger input—providing precise pointing and navigation that can dramatically improve and enhance your experience with a touchscreen.
"The best touch experience requires the expertise and collaboration of ecosystem leaders to optimize what the user sees and feels," said Gopal Garg, senior vice president of Synaptics' handheld business unit and corporate marketing. "The improved sensory experience of Fuse will drive handset innovation to evolve, taking the current generation of touch-based interaction to the next level of human-device interaction."
[adsense]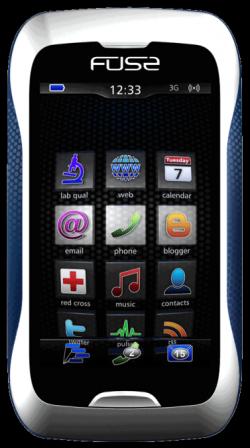 "The Fuse project has demonstrated the power of multi-party collaboration to deliver experience-led innovation, said Gus Desbarats, chairman, TheAlloy. "Each partner within the Fuse project has helped to show the effect that leading-edge technology can deliver when applied with design thinking."
"Exceptional user experience differentiates the best designs," said Craig Vachon, senior vice president and general manager of Immersion's touch line of business. "Fuse exemplifies the power of collaboration and realizes what is possible by integrating innovative technology, including Immersion's next-generation TouchSense solutions. Working with these partners has been gratifying; Fuse is further validation that our haptics technology brings to life the power of touch and makes devices more intuitive, satisfying, and fun to use."
"Providing our technology in order to showcase user experience paradigms of next generation devices is one of the key ingredients that keep TAT ahead of the trends in mobile user interfaces", says Charlotta Falvin, chief executive officer of The Astonishing Tribe. "Realizing design ideas that push the limits of technology like the Fuse UI does is one of our passions."
"The world is changing, and so is the way people interact with their mobile devices. TI is excited to be a part of the innovative Fuse concept that reiterates the significant headway we're making to advance mobile user experiences," said Fred Cohen, director of worldwide ecosystem partners for Texas Instruments. "TI's OMAP platform works in sync with these other impressive technologies to bring big-screen, life-like capabilities to consumers' fingertips." (www.synaptics.com)
(video courtesy of pocketlint.com)