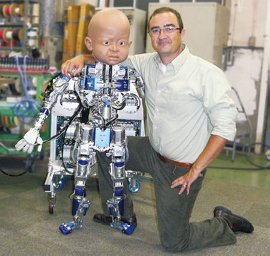 You want to hear what freaks me out the most? Babies. I'm not talking about real babies that crawl, coo, and you have to change every once in a while. In fact, I think these babies are cute.
I'm talking about every time someone makes a baby's head and puts it on something like a doll, or in this case, a robot. This is Diego-san, a four-foot tall robot with the head of a baby.
Why they used a baby's head instead of a some sort of artificial face, I will never know. I mean, Number Five, C3PO, and Wall-E looked cuter. However, Diego-san's face is made up of 20 moving parts, and it is designed to communicate via facial expression rather than talk.
This baby has already learned how to stand up from a chair on its own, and it can hold a water bottle. I'm guessing it can't drink the water, as it would probably rust. Maybe the creator should feed it baby oil. Yes, that was a bad joke, and there is no way that I can call the Diego-san anything but "it".
I'm guessing that Diego-san was designed as some baby simulator or something. Perhaps he is another stepping stone for the advancing science of robotics. I think that it is weird that we have the technology to create this baby's robot body, but we just don't have the technology to make an artificial baby head that doesn't look freaky. Honestly, I feel like this robot should have appeared in the movie Brazil.
Via: Coolest-Gadgets