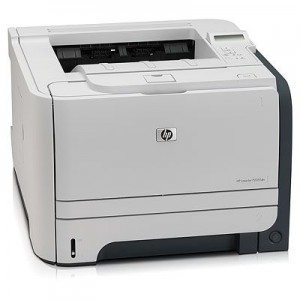 The HP LaserJet P2055dn Printer is an affordable office computer that saves both energy and paper. The HP LaserJet P2055dn includes duplex printing (printing on both sides of printer paper) by default, which means it's already configured to save you paper. The printer also uses what HP calls it's Instant On Technology which significantly reduces the time needed to warm up the fuser.
The fuser is the part of the printer that heats and binds the toner particles to your paper, which traditionally takes a while to warm up. Since computer users don't want to wait ages for their printer to warm up before printing anything, the HP LaserJet P2055dn has been designed to output the first page within 8 seconds! As a direct result of the quicker warm up time, the printer saves considerable energy as the fuser is not switched on for as long.
The printer is a very good printer despite the energy and paper saving features, with up to 1200 x 1200 dpi resolution and up to 33 pages printed per minute. The usual print quality options and a range of compatible paper types also applies to this printer.
In power-saving mode, the printer uses just 8 Watts of power, although it does use 570W when actively printing. When not in use, it'd be worth disconnecting the printer, as it's switched off power consumption is still 0.4W!
Via:  Enviro Gadget