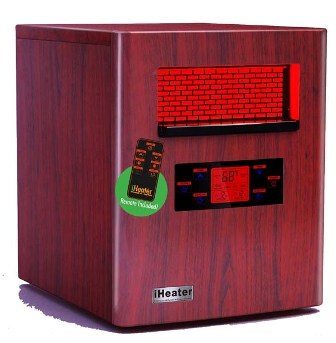 iHeater incorporates the latest innovative technology that no traditional heaters on the market incorporates. An ultra-quiet fan draws air through the back of your iHeater, where it then passes through a reusable air filter, and over iHeater's Unique PTC  (Positive Temperature Coefficient) quarts infrared heating element.  The air then travels through a set of uniquely cured copper plates, close to where it exits. After passing through these plates, the infrared-heated-air is then transferred to moisture molecules in the air and then from molecule-to-molecule,  where it uniquely heats these molecules in the area.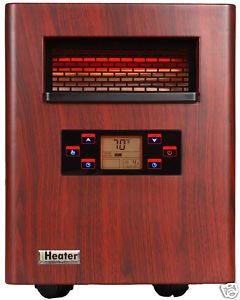 Because heated air eventually rises and dissipates, iHeater's infrared-heated-air rises lower and as a result, this air is more evenly distributed. The iHeater infrared portable heater can save you up to 50% on your heating bills by allowing you to be comfortable in the room you are using while lowering the heat in the rest of the house.
[adsense]
The iHeater uses 1500-watts worth of titanium oxide coated elements that are UL Listed which will last about 60,000 hours inside the unit to produce the warmth, which is blown out of the unit to gently and evenly heat the room you are in. The iHeater will not dry the air in the room like some heaters will.
The outside of the iHeater is cool to the touch and is completely safe for animals and even small children, with no chance of them getting burned. The UL Listing on the titanium oxide coated elements assures you that they are safe to use in your home.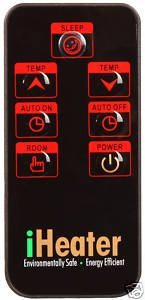 The iHeater is available with either a black or wood-grain finish.  Its ABS plastic cabinet is practically indestructible, and uses only 1500-watts which is only slightly more than a hair dryer, yet fills a room up to 1,000 sq. ft. The iHeater is compact, measuring 16" X 13" X 17" and tips the scales at 28-Lbs. but you don't have to worry about lifting it because the iHeater has wheels so it can be easily rolled from room to room.
[adsense]
The heater can be controlled from the onboard control panel or with the included remote. The iHeater is whisper quiet, and uses only 12.5-amps so it can be plugged into any 120-volt receptacle in your home. The iHeater is sold mostly on TV, by phone and on-line, but may be available in some stores as well. The sooner you start heating only the area of your home that you are using the sooner you can start saving money.
iHeater is Made of high-impact ABS (Acrylonitrile Butadiene Styrene) material, similar to what is used to make such well known products like golf club heads, protective head hears, Legos, and plastic pressure pipe systems etc.  Suffice it to say, this sucker is strong.
The iHeater lives up to its claims, with possibly one exception. It costs more than a $1 a day to run. It did raise my electric bill, but lowered my gas bill as well. I'd say there is some savings there. It does keep a lot of area warm. It is such a comfortable, even heat, not like forced air furnace that make the room either too hot or too cold about 50% of the time. And the heat is even throughout the house, unlike the furnace where some rooms are too warm and some too cold.

During my evaluation, I didn't feel drafts as much, the air wasn't dry and I didn't have to run a humidifier. Additionally, my furnace rarely kicked in. It is hard to believe that a small compact unit can do such a big job – and do it safely. Only the small output area gets hot. Having a remote and being easily programmable is a definite plus as well.  (around $350, www.iheaterinfrared.com)