The Firefly light has been designed to make cyclists more visible. It uses a passive Infrared sensor to detect traffic approaching from behind the rider and projects light from flashing LEDs onto the back of the rider with varying intensity depending on the proximity of the traffic.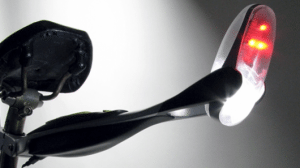 The device's protruding arm allows the light to illuminate the entire back of the rider at any angle, while a set of LEDs also illuminates the ground directly beneath the rider, giving traffic a greater sense of exactly where the rider is. Completely illuminating the whole back of the rider, regardless of riding position, exploits the vast space for increased visibility, says its designer, James Morton, from the University of New South Wales.
[adsense]
"This makes it the only bicycle light that gives the rider human characteristics so they aren't treated as just another cyclist. As well as this unique back light, the Firefly also incorporates ground illumination to provide a perception of depth for approaching traffic, as well as a tail light feature, all in the one unit."
Morton says concept testing has shown vast improvements in rider visibility by directly illuminating the rider and creating a halo effect of light under the bicycle, adding to a strong tail light presence.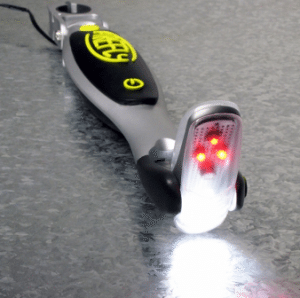 "By mounting the unit to the seat post the device can be used with all bicycle types and is compatible with existing bicycle accessories such as mudguards, panniers and backpacks. With such responsive back illumination there is no need for additional safety apparel such as safety vests. A built-in power port allows for powering (of) additional lighting or accessories," he says.
The Firefly skeleton is made from die-cast aluminum, while the underside is made from an injection-molded Acrylonitrile Butadiene Styrene which houses all the electronics as a sub assembly.
[adsense]
"This provides increased impact protection and resistance to the harsh conditions on a bicycle. The battery is easily accessible for recharging through the top resealable Thermoplastic Elastomer cover that provides a water-tight seal protecting the battery and control button from the elements. The flip up tail light is constructed on a sturdy aluminum frame to improve impact resistance while optical grade Polycarbonate lenses are attached to provide high performance light dispersion and full protection of internal components."
Once illuminated, the rider can then scroll through the seven different lighting options on the Firefly with the button located on the top of the unit. A quick release button allows for easy attachment and removal from the bicycle for security.
While the Firefly bike light is the only known bicycle light that responds to the presence of surrounding traffic, its rear tail-light also meets Australia's bicycle light requirements. The Firefly light is one of more than 300 entries in the Australian Design Awards – James Dyson Awards held annually. Approximately 30 designs by students are shortlisted to the final round of global judging which takes place later in the year. (http://student.designawards.com.au)