The X8100 from Taiwan's Clevo is super fast, and you can choose from three Core i7 processors, either one or two nVIDIA GeForce GTX graphics processors with SLI technology support, a 18.4in full high definition display, up to 8Gb DDR3 memory, space for up to three SATA drives and touch sensitive hot keys.
Clevo offers the gamer a choice of Intel Core i7 configurations to power the X8100, the 1.6GHz 720QM, the 1.73GHz 820QM or the 2GHz 920XM Extreme. As far as the graphic processor, you have a choice of either a single or dual nVIDIA GeForce GTX 285M, each GPU having 1Gb of onboard RAM and SLI technology.
There's room for up to three 2.5in SATA storage drives on a RAID 0/1 configuration and the option of a Blu-ray writer as an optical drive. The X8100 will also accommodate up to 8Gb of DDR3 memory via two 204-pin SODIMM sockets.
With 1080p high definition delivered to the huge 18.4in LCD display, you are sure to experience an eye-catching screen environment. To the left of the full-size keyboard are eight programmable gaming keys and to the top, eight more touch sensitive hot keys for quick access to such things as WLAN, Bluetooth and volume control. The touchpad supports gestures and scrolling. The unit also sports a 5.1 speaker system with built-in subwoofer for high definition audio and S/PDIF digital output for external options if needed.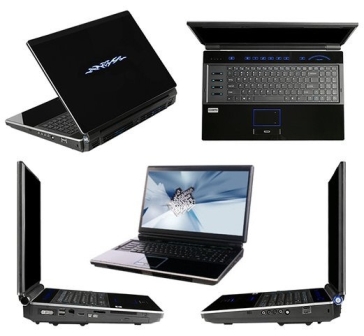 Other connectivity options include four USB 2.0 ports, an IEEE 1394a and an eSATA port, HDMI-out and a 7-in-1 card reader. 802.11b/g/n and Bluetooth 2.1 with EDR and a TV tuner. The Clevo X8100 starts out at $2000.  (www.clevo.com/tw)
Published on  March 8, 2010