Samsung has announced the launch of their first electronic book reader. The Samsung E6 eReader will feature a six-inch, 8-grayscale e-ink display with a resolution of 600 x 800 pixels.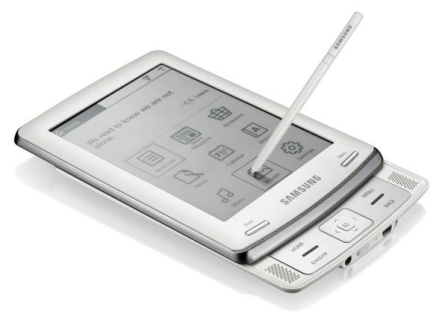 Samsung has teamed up with publisher Barnes and Noble who will deliver content to their new E6 eReader, and it is capable of reading a range of file formats which include e-pub, PDF/a, TXT, bmp and jpg.
[adsense]
"We are very excited to be entering the explosive eReader market with a device that brings the best of a traditional reading experience into the digital age," said Reid Sullivan, Senior Vice President at Samsung Electronics America. "Samsung prides itself on identifying and fulfilling unmet consumer needs through innovation, and the eReader is emblematic of that approach. We are partnering with the best in the business to offer access to an extensive array of content, and have developed innovative features and technologies designed to make reading that content as personal and intimate an experience as reading a hard copy book has always been."
The Samsung E6 eReader also comes with built-in front speakers and a headphone jack to plug it whenever you need some privacy, features the company's text-to-speech (TTS) technology that will read text aloud. Other specs include Bluetooth 2.0 and Wi-Fi (802.11 b/g) connectivity.
On top of that there is a built-in MP3 player for your favorite audio content, and 2GB of storage space (expandable by 16GB via a microSD card) for you to store up to 1,500 books or 24,000 pages of memo.
The new Samsung E6 reader will debut on Barnes & Noble website sometime this Spring for $299.
(www.samsung.com, www.barnesandnoble.com)
Published on March 11, 2010