The Babolat Propulse 2 Men's Tennis Shoes gets a make-over from its previous generation. The Propulse 2, endorsed by no.-8-in-the-world Andy Roddick, offers a concentrated dose of high-tech power for players looking for performance. The ultra highly innovative all-court tennis shoe has even more cutting edge technology than ever before.
The fresh Titanium colorway featuring black and gold is very smart looking. The Titanium uses a Michelin OCS shoe technolgoy that offers excellent abrasion on multiple court surfaces. These tennis shoes also feature the tailor-made foot support, the Babolat Foot Belt, which helps with instep and ankle support.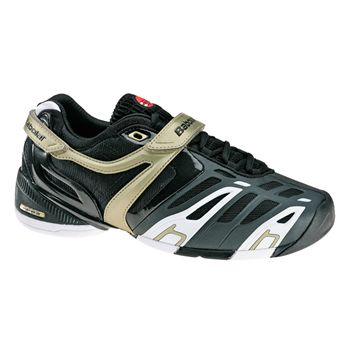 The Babolat Propulse 2 Titanium offers a low-to-the-ground ride and responsive cushioning.  The Babolat Foot Belt, with two straps, one at the midfoot and one wrapping the heel, offers a fit that can be tailored to the player's needs for added support where needed. Both belts do a good job of cinching in the upper for a more secure fit. Offering excellent traction and as much support as needed, the Propulse 2 is an ideal choice for the player who moves with speed and aggression on court.
Use of mesh throughout the upper part of the shoe offers a ventilated ride while a redesigned toe area offers improved durability. The Michelin developed outsole features a six month durability guarantee.
[adsense]

Other technology advancements are the midsole.  It has a compression molded EVA for lasting impact protection. A Vibrakill shock-absorber in the heel provides a lot of comfort, and the Exact Pro technology combines a pebax plate and a Dynamic camflex in the forefoot for improved energy return on every step. Extensive midfoot shank improves stability for faster lateral movement.
Babolot sent me a pair of these for testing.  My first impression is its contouring fit.  It really grips well, and the ankle support is unmatched.  This is particularly important for tennis players, with their side-to-side movements, and their constant and gruelling start-and-stop action.  I also noticed that the Babolat Propulse II Titaniums were super absorbant on the heal and toe, and its attention to comfort earns it a 10.  And while it may look like the shoes are air-tight, the Titaniums actually offer quite a bit of ventilation. I can probably go out on a limb, and dub these as the best tennis shoes for all-court players around.  ($110, www.babolat.com)
Published on March 18, 2010