It's usually pretty straightforward: an 11.6-inch notebook will deliver battery life but lack grunt, while a larger machine is more likely to pack performance at the expense of liberty from a power point. The Alienware M11x promises to change all that; while it may have the diminutive dimensions of a CULV notebook, its overclocked processor and switchable discrete graphics claim to make it a gamer's machine where longevity is a choice. Is the M11x really the best of both worlds? Check out the full SlashGear review after the cut.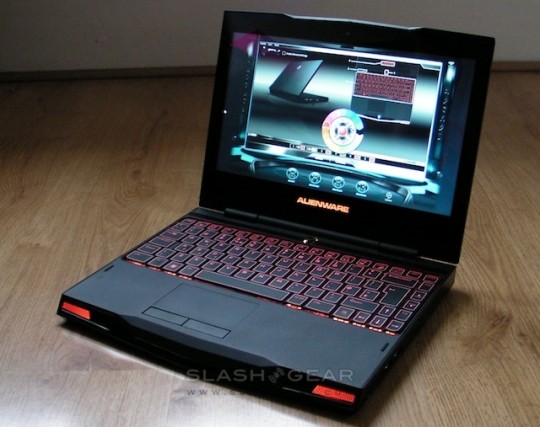 It's certainly a distinctive notebook. Like larger Alienware models, the M11x swaps the curves so fashionable in current mainstream laptops for a blunter, angular design. The company have happily shown a little more restraint when it comes to grilles, contours and fluting, but there's still no doubting the family lineage. The backlit Alienware logo on the notebook's lid is mirrored by a second, slightly smaller logo just above the keyboard that acts as power button and status indicator.
[adsense]
The keyboard itself, meanwhile, uses Alienware's stylized font, and the flat keycaps are reasonable to type on. There's a decent amount of key travel, though it's not a particularly quiet 'board, but we're not 100-percent convinced by the layout. It feels a little cramped in terms of width, perhaps because Alienware have slotted in a row of Home/End/Page Up/Page Down keys on the far right; most frustrating are the unduly narrow arrow keys, and we often found ourselves hitting the Windows context menu button when we meant to press left.
Via : Slash Gear