Sony's latest offering, the MDR-RF4000K digital cordless headphones, include a unique new storage and charging dock and an impressive wireless range of 100ft. The storage doubles as a cable-free battery charger. After use, just fold the ear cups flat and the MDR-RF4000K cans stows away neatly while the battery recharges.
Sony says digital RF transmission ensures clear, secure signal reception over a range of up to 30m. The headphones' closed-type design cuts sound spillage, which means you won't disturb others while wearing them and high-end audio quality is delivered via a 40mm long-stroke diaphragm which accurately reproduces the sounds you are intended to hear.
The unit has swivel circum-aural cushions plus a parallel-link self-adjusting headband for wear comfort. The volume control on the headphones lets you continue your listening enjoyment without having to reach for a separate remote.
The headphones' NiMH battery is said to last for up to seven hours of continuous listening between charges and can be supplemented by a single AAA alkaline battery for up to 10 hours listening without a break. An auto power-save feature switches off the headphones when they are not being used, extending listening time even further.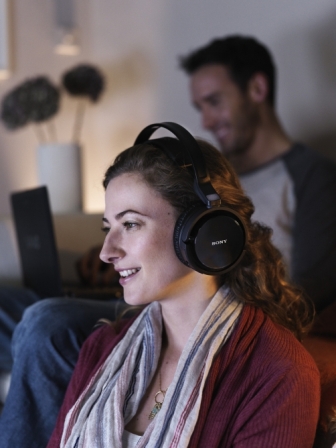 Also released by Sony and available this Spring is the MDR-RF810RK which has a wireless range of 100m. Weighing just 220g, the cordless headphones also feature a precision 40mm driver for uncompromized sound, plus a volume control for easy adjustment. It boasts 13 hours of listening time on a single charge while one AAA alkaline battery will power the device for up to 28 hours . The new MDR-RF4000K and MDR-RF810RK wireless headphones are available from April 2010. No word on pricing just yet. (www.sony.com)
Published on March 26, 2010