CHIPDRIVE® MyKey™, a new easy-to-use smart card USB stick from SCM Microsystems, safely stores your passwords, allows you to take them wherever you go, and it locks up your computer whenever you leave  So small it fits in your pocket, and it combines a portable, encrypted and PIN-protected password manager with a Microsoft® Windows® access lock to prevent prying eyes and identity thieves from accessing your PC or laptop and its data.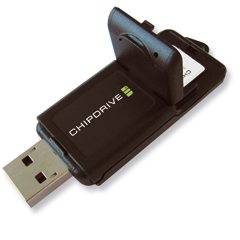 CHIPDRIVE MyKey is compatible with Windows 7, Vista, XP and 2000. Available in Europe for more than a year, it is now available in the U.S. for a suggested price of $29.99 from leading online retailers including Amazon, Buy.com, CompuPlus, eCost, Staples and others.
"Identity theft has been the number one source of consumer fraud complaints reported to the Federal Trade Commission (FTC) for the last seven years, and more than 50 percent of identity theft is the result of thieves accessing personal information and data stored on a computer," said David Holmes, vice president and general manager, SCM Americas. "CHIPDRIVE MyKey's Password Manager lets you take your most confidential bank or investment account passwords and other sensitive information out of the PC and securely store them on a smart card chip, where they are encrypted and PIN-protected and not vulnerable to any malware that might infect your PC."
[adsense]
Remembering all of your passwords is another big problem everyone faces. What is worse is the common practice of using the same password for multiple sites. MyKey solves password problems by providing a convenient, portable password manager that you can use from any computer – at home, at work, or at a friend's – so you don't have to memorize the passwords for all the Web sites you access.
In addition, another feature called Computer Lock gives you a hassle-free way to protect your sensitive information when you are away from your computer. Just unplug your MyKey and it locks your desktop; no one can access your PC without it, even if they know your password.
The company behind CHIPDRIVE MyKey, SCM Microsystems, is already a leading provider of smart card-based security solutions in the United States, and has shipped more than two million devices to the U.S. Department of Defense and other federal government agencies. In 2009, global growth consulting firm Frost & Sullivan recognized SCM for this success with the North American Smart Card Readers Market Leadership Award.
How It Works
CHIPDRIVE MyKey is extremely simple for consumers to install and use in three easy steps.
1.       Install SCM's software from the CD-ROM
2.       Insert the smart card chip into the USB device, and then plug it into any spare USB slot
3.       Log on to the computer
The foundation of MyKey is a super-secure smart card inside the USB stick. The same size as a mobile phone SIM, the smart card contains a microprocessor and special security software. Smart card technology already protects billions of people every day as they use their mobile phones and EMV or contactless bankcards. All U.S. federal government employees, including every branch of the Armed Forces, have smart card technology built into their ID credentials, and the U.S. and other countries use smart card technology in electronic passports.
CHIPDRIVE MyKey's Password Manager stores usernames and passwords on the smart card chip. MyKey encrypts the information and requires a PIN to access it, so if you lose your MyKey your information is safe. Login dialogs are answered easily without drag and drop, and new login and Web site information is easily added.
Computer Lock works as an access lock for Microsoft Windows-based PCs and laptops to fully protect the computer and its data whenever it is not in use by its owner. To use MyKey to login to Windows, simply plug it into any spare USB slot, enter your four-digit PIN, and you can log onto your computer and access data instantly. When you remove MyKey from the USB slot, the PC automatically enters a "locked" mode where the computer cannot be used, and data cannot be accessed. MyKey is especially useful for notebook users, as it prevents access to all data even if the computer is lost or stolen.
In addition, it provides these convenient and secure features:
Form Fill: store your personal information (e.g., name, address, phone number) and use it to automatically fill in Web forms anytime you are online, such as shopping, booking travel and registering at new Web sites
Address Book: store your favorite Internet bookmarks and take them with you wherever you go
Notepad: encrypt and store personal notes to keep them confidential and protected from unauthorized access
CHIPDRIVE MyKey comes complete with the USB stick, a SIM-sized smart card, software and a user guide on a CD-ROM. (www.chipdrive.net.
www.scmmicro.com and www.identive-group.com.)
Published on April 01, 2010