Toshiba Europe unveiled two camcorders from its new Camileo SX series. Packed with advanced video features, the Camileo SX500 and Camileo SX900 are aimed at demanding film makers and are optimised for capturing both far-off and close-up shots in varying light conditions. The slim digital video cameras offer a sophisticated video feature set with a powerful optical zoom and impressive light sensitivity at a competitive price point. The Camileo SX500 and Camileo SX900 will be available during second quarter 2010 throughout Europe, Middle East and Africa.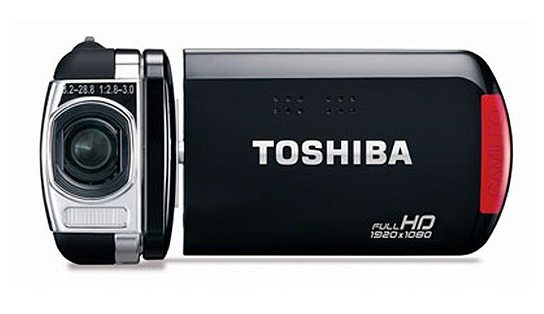 The Camileo SX500
The Camileo SX500's powerful 5x optical zoom and 12x digital zoom can capture long-distance scenes on its 10 Megapixel CMOS sensor. Ann embedded electronic image stabiliser is also built in to the Camileo SX500 to reduce image shakes. The elaborate light sensitivity of 4 Lux allows recording even in twilight. The Camileo SX500 captures videos with a resolution of up to Full HD quality (1920 x 1080i/p) and can also be used as a digital still camera that takes photos up to 4000 x 3000 pixels in 4:3 mode or 4480 x 2520 pixels in 16:9 mode.
The Camileo SX900
The Camileo SX900 takes video quality to the next level by offering a 9x optical zoom and a light sensitivity of 3 Lux, enabling it to capture videos even in the reduced light of a well illuminated room without need to use a lamp. These advanced technical capabilities are enclosed within a slender 33.0mm body, making the Camileo SX900 one of the slimmest horizontal camcorders in the market.
High capacity memory support
The new camcorders support the latest SD card technology and use of SDXC cards with a capacity of up to 64GB; enough storage capacity for more than seven hours of Full HD videos.
Editing and managing
They integrate a number of basic editing functions to edit photos on the camera without the need for a PC. These include; cut/join, which allows immediate video processing,; embedded red eye and contrast correction. The new Camileo camcorders will ship with a full version of Arcsoft MediaImpression 2 and a 30 day free trial of Video deluxe 15 by Magix to allow users to manage their videos on a PC.
Broad connectivity
The Camileo SX500 and Camileo SX900 synchronise with laptops and TV sets via HDMI (High Definition Multimedia Interface) or USB 2.0, and Composite Video (PAL, NTSC). Cables for USB, HDMI and analogue video are included in the package.
Both camcorderrs will be availble in July in Europe, and expected to cost in the region of $380 for the SX900 and $300 for the smaller Camileo SX500 Camcorder.
Published on  April 20, 2010