The Gateway EC14D07u measures a mere 11.6-inches, with a screen resolution of 1366 x 768 pixels.  This tiny P.C. still manages to include an optical drive and can easily double as a portable movie player for anyone with a DVD collection or Netflix subscription.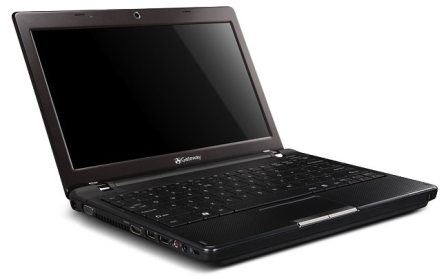 It's six-cell battery life is also a huge bonus, compared to competing models of this size, providing 7-hours and 50 minutes of power while continuously browsing the internet over Wi-Fi. Other nice features worth noting include an HDMI out port for viewing content over a television and an integrated webcam for Skype video conferencing.
In terms of speed, the computer's 1.3-GHz dual-core Pentium processor and 4GB of ram make it more than capable for handling multiple browser windows and basic applications. At $630, it's a tad salty compared to similar sized options by other manufactures or even larger models featuring Core i3 processors, however, the inclusion of the optical drive along with this machine's long battery life and small form factor make it a worthy purchase for travelers looking to browse the web and watch movies without being limited by battery life or bulkiness.
Published on May 4, 2010