The Laser Alignment Putting Trainer is used by professional tour players and endorsed by golf analyst, Jerry Foltz. This putting trainer relies on a laser to show you when your putter is aligned optimally before you make that putt. An L-shaped mirror is attached to the toe of your putter in order to reflect a laser beam generated from a module, which sits opposite the mirror.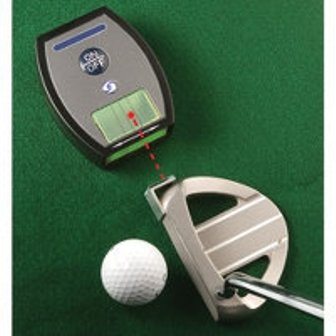 The trainer's window will display a red dot at the mid-point of the middle bar to indicate optimal alignment. Open or closed putter faces will match the beam with the outer lines, indicating poor alignment. Regular use with or without a golf ball helps to fine tune muscle memory for improved putting.
There are three bars on the module's display to show whether your putter's blade is perfectly square and level with the ground at the moment of impact or not. The Laser Alignment Putting Trainer runs on a pair of AAA batteries, and is available at Hammacher Schlemmer Catalog for $59.95.

Published on May 21, 2010